Herb Smith's Paxolin "Mini Marathon"

Item AS12

This Item was Sold for $158
---
Other collectable boomerangs for sale can be found on the Collectable Boomerangs or Hardwood Boomerangs or Art Boomerangs links.

Historical Pricing information for this and similar collectable boomerangs can be found on the Boomerang Pricing Guide
---
Herb Smith was one of England's greatest boomerang makers. Herb started making Birch plywood hooks and traditional boomerangs in the 1960s and was one of the first suppliers of boomerangs to the Boomerang Man in the early 1970s. Before Al Gerhards started making his S/L hooks, Herb Smith was the only commercial supplier of long distance boomerangs. One of the first boomerangs I ever purchased was a large weighted Sussex Hook with a range of 80+ metres. I became an instant fan. Herb was an early Long Distance World Record holder with a carefully documented throw of 108 yards on 17 June 1972 using a large weighted traditional model called the "Gem". In the 1980s, Herb introduced the world to Paxolin material, a dense and hard composite material that significantly extended the range of his plywood models. Herb continued to make plywood models as Sports boomerangs, even after the introduction of the Paxolin models. The Paxolin boomerangs were smaller and usually painted in two colors and with simple line art banding. The wooden models were often decorated with many colorful bands, flowers, birds and occasionally other themes. Herb did most of his own art work, but while he was a prison guard, he employed the skills of master forgers in the prison where he worked. Herb stopped making boomerangs in the late 1980s and the boomerang world was without one of it's greatest craftsman. Then suddenly in the early 1990s, Herb started making Paxolin and finely decorated Birch plywood models agian. This continued until Herb's death in 1995. Herb's models have become among the finest of collectable boomerangs as the supply continues to diminish.
This item is the original "Marathon Mini", made in 1986 and painted silver with purple tips and red lines. The underside is painted silver and has " Hand Carved by Herb A. Smith of Sussex, England ; December 1986 ; The Mini Marathon ; Gemstar Designs" written in black ink. This boomerang is from Herb's personal collection and was one of his design masters. It was discovered in a hidden box by Herb's widow in 2005, a full decade after his death. This boomerang is in mint condition.
This boomerang was supplied directly from the estate of Herb A. Smith by Herb's widow, Anim. The proceeds of the sale of this item will go directly to Anim Smith. The price of this item will be reduced every week until it is sold.
Specifications: Right Handed ; Tip-to-tip Span = 34 cm ; Weight = 50 gm
---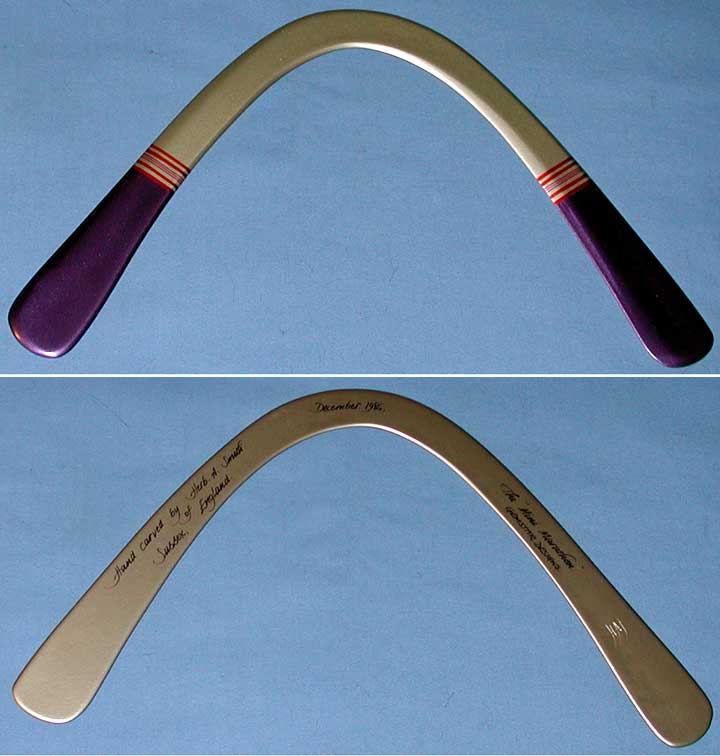 ---
Back to: Flight Toys | Boomerang Auction | Collectable Boomerangs | Aboriginal Throwsticks | contact: Ted Bailey