Left Handed Traditional by Bob Burwell

Item JB16

This Item was Sold on 3 March 2013 for $74
---
Other collectable boomerangs for sale can be found on the Collectable Boomerangs link.

Historical Pricing information for this item and similar collectable boomerangs can be found on the Boomerang Pricing Guide
---
This left handed traditional boomerang was made by Bob Burwell out of Australian plywood in 1982. The elbow has a frilled goanna lizard etched and painted into the surface. The entire upper surface has incised geometric line art and the underside has " Left , Made by Bob Burwell , Australia, 1982" etched into the surface at the elbow. This is one of the nicest Burwell boomerangs I have ever seen and it was made for Rusty Harding. I did a test throw with this boomerang and it is an exceptional flyer with a flight range of 30-35 metres. Excellent condtion and without damage. From the Rusty Harding estate.
Specifications: Left Handed ; Tip-to-tip Span = 46 cm ; Weight = 118 gm
---
Bob Burwell is one of Australia's best known throwers and competitors. Bob is the son of Ces Burwell, who was a well known boomerang manufacturer and thrower in the 1940s - 1970s. Bob was the Australian National Champion in 1976, 1977 and 1978, He was also the U.S.B.A. Champion in 1982 Find out more about the Burwell family on Bob's web site: Historical Photographs of the Burwell Family.
---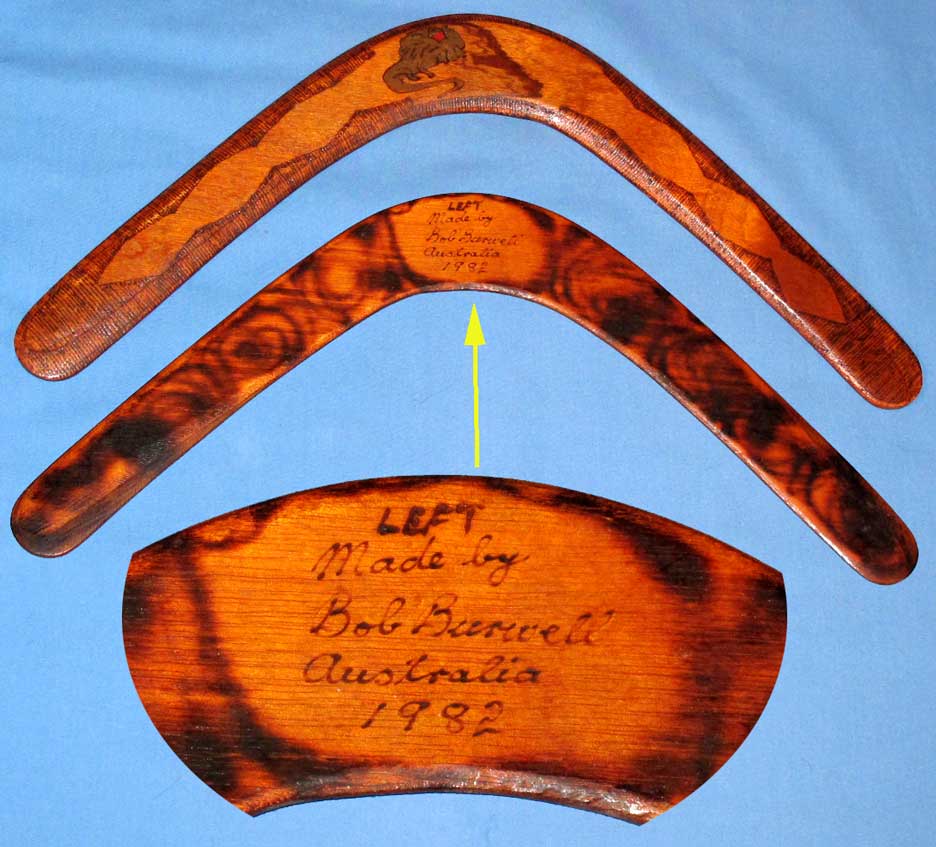 ---
How to Order | Back to: Boomerang Catalog | Collectable Boomerangs | Boomerang Pricing Guide | contact: Ted Bailey