The Sling

Last Updated on 18 February 2010
A sling is a device that is used to throw a rock or other projectile with considerable mechanical advantage. Slings are widely used in the Middle East and South America. The most famous example of a sling in use can be found in the famous Biblical story of David and Goliath.
---
Please visit http://www.slinging.org/ to see a comprehensive web page about slings. This web page has links about sling history, how to sling, a gallery and links page.
---
You can purchase literature about Peruvian slings from StoneSlings.com
---
You can purchase authentic slings from the flight-toys.com catalog. Ethnographic slings can be found in the flying toys link, and in the ethnographic artifact links for South America and Asia.
---
Federal Import Restrictions for Ethnographic Items from South America
---
The first two slings from South America that I purchased were ethnographic items that cost $100. They were marked as being 19th Century, or earlier. The first sling, pictured directly below, is Peruvian. It is made out of Alpaca wool and weighs only a couple of ounces. The overall span is 67 inches. The pouch is split, as shown wrapping around the river bed rock in the photo below. I have used this sling to throw large Buckeye seeds more than twice the distance than is possible by hand. The one thing that I especially like about this sling is that the throw is absolutely silent.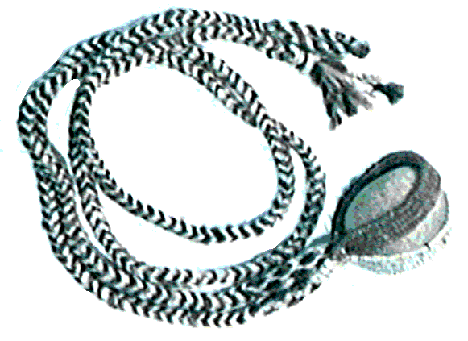 ---
The second sling is extremely large and heavy. It is Bolivian and made out of Llama wool. It has a span of 86 inches and weighs a massive 14.4 ounces. The pouch is split and very thick and heavy. The pouch is large enough to hold a cannon ball.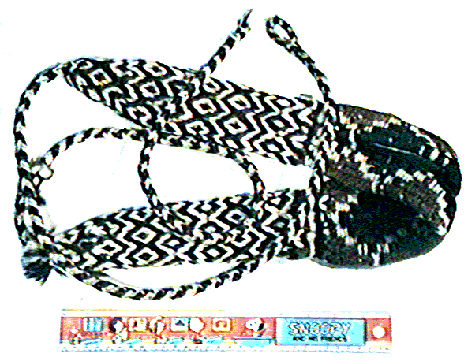 The Snoopy Ruler has a length of 12 inches.
---
Here are two more photos showing the fabric and weave pattern.

---
Back to: Flight Toys | Primitive Technology | Contact: Ted Bailey