Al Gerhards' Strip Laminated Omega

Item TB39

This Item was Sold for $137
---
Other collectable boomerangs for sale can be found on the Collectable , Hardwood and Art Boomerang web links.

Historical Pricing information for this item and similar collectable boomerangs can be found on the Boomerang Pricing Guide
---
Al Gerhards is one of America's most famous boomerang manufacturers. Al started making strip laminated boomerangs in the 1970s and only made boomerangs until the mid 1980s. Al would spend up to a year test throwing and tuning a single boomerang. He never sold or gave away a boomerang until it was perfect. Al taught himself to tune completely from scratch. Al was my tuning mentor and everything that I contributed to tuning of the MTA boomerang in the early 1980s was a direct result of what I had learned from Al. The strip laminated omega was not as common as the classic S/L hook. It was only made for a brief period of time in the early 1980s and was a superb boomerang for use in the Australian Round event with a flight range of about 45 - 50 metres and a low perfect flight.
This particular boomerang was made in 1981 or 1982. It is unsigned, but I will guarantee for life that this particular one is a genuine Gerhards boomerang. I did test throw this particular Gerhards Omega. It has a low flight of more than 50 metres. It takes some power for a full return and likes a light breeze better than dead calm. It is one of the better flyers for this model and will not require any tuning. This is a durable boomerang and is probably strong enough to use in competition today, even though it is almost 25 years old.
This boomerang is from the estate of Brother Brian Thomas. This is a boomerang that Brian would never let out of his collection before his death. The sales of this boomerang will benefit one or more charities that provide relief to the victims of the 2004 Tsunami Disaster in South-East Asia. The price will be slowly reduced every week until it is sold.
Specifications: Right Handed ; Tip-to-tip Span = 34 cm ; Weight = 56 gm
---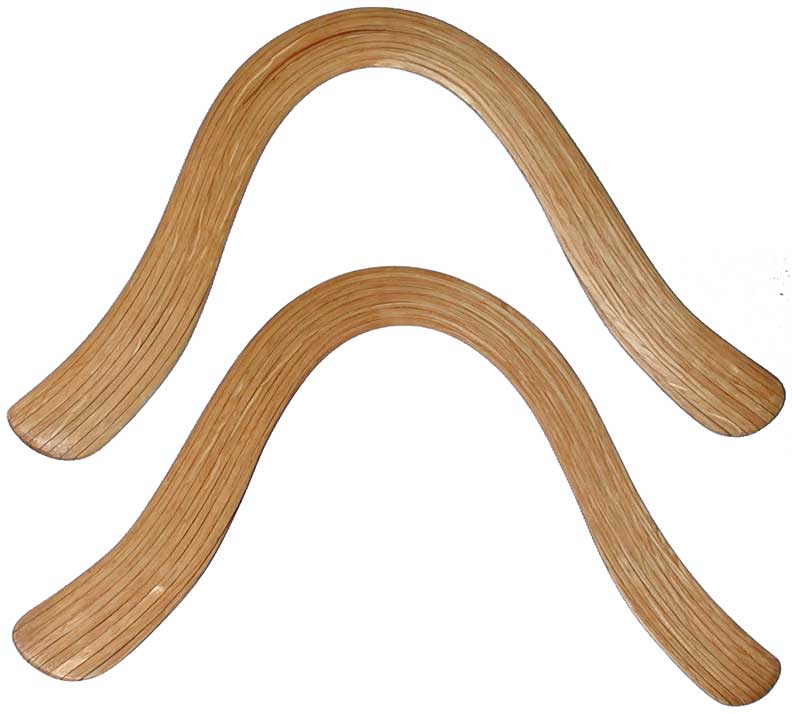 ---
Back to: Flight Toys | Boomerang Auction | Collectable Boomerangs | Aboriginal Throwsticks | contact: Ted Bailey