Antique Ivory Keris Kris Handle

Item BR05

This Item Sold on 10 October 2007 for $80
---
Similar artifacts for sale are often found on the Asian Artifacts web page.

Historical Pricing information for this item and similar artifacts can be found at: Historical Artifact Prices.
---
This antique Kris handle was purchased in Denpasar, Bali many years ago, but it was probably made in Palembang (South Sumatra). It is carved out of a very old piece of ivory. The dark coloration suggests that this ivory is most likely from an Asian elephant. The Keris handle is ornately carved into an anthropormorphic shape, possibly depicting a monkey with crossed hands. There are several fine age cracks that all run parallel and are predominantly on one side, but no damage from mishandling. This is one of the finest Kris handles that I have ever seen. These knife handles from Indonesia are widely collected as objects of art and craftsmanship. Many of the Krises were obviously made for ceremonial, rather than utilitarian use. This kris handle comes with the original inexpensive wood display stand. Length = 9 cm. Weight = 92 gm.
---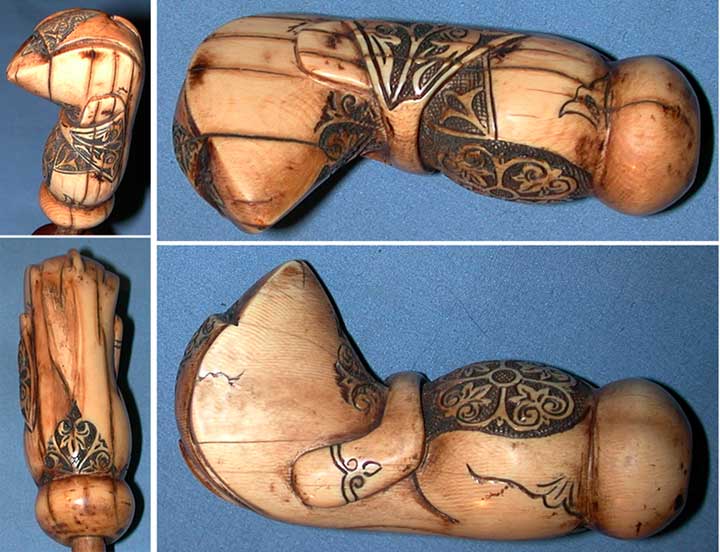 ---
Back to: Collectable Artifacts | Asian Artifacts | Historical Artifact Prices | Primitive Technology | contact: Ted Bailey