Antique Laminated Steel Lion Keris Kris Blade

Item BR06

This item was sold on 16 July 2007 for $72
---
Similar artifacts for sale are often found on the Asian Artifacts web page.

Historical Pricing information for this item and similar artifacts can be found at: Historical Artifact Prices.
---
This antique 9 Luk Lion Keris Kris blade is made out of laminated steel. It was purchased in Denpasar, Bali many years ago, but was probably made in Palembang (South Sumatra). Please look at the photo below to see the details of the steel lamination and the ornately decorated handle, including a small figure resembling a lion. This is one of the better Keris blades that I have seen. It was selected from an assortment of other blades as the finest in the lot. It was probably made for ceremonial (practitioners of Escrima Kali Silat and other Indonesian martial arts) rather than for utilitarian use. There is no handle with this blade, but one can easily be added. There is no visible damage. Length = 25 cm. Weight = 56 gm.
---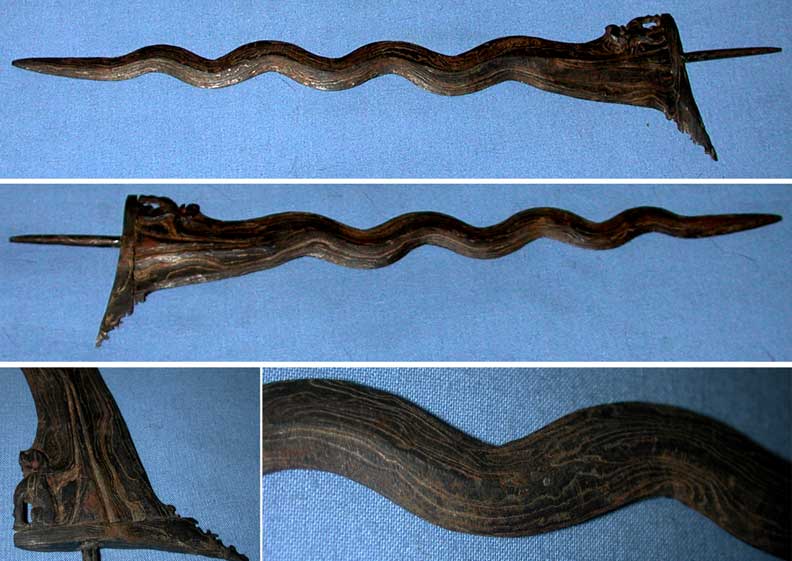 ---
Back to: Collectable Artifacts | Asian Artifacts | Historical Artifact Prices | Primitive Technology | contact: Ted Bailey