Vintage Ceremonial Throwstick from the Northern Territories

Item CT01

This Item Sold on 12 October 2007 for $196
---
Similar artifacts for sale are often found on the Aboriginal Hunting Boomerangs web page.

Historical Pricing information for this item and similar artifacts can be found at: Historical Artifact Prices.
---
This non-returning boomerang or throwstick from the Northern Territories has been decorated with ceremonial ochre paint in a style that is usually found in the coastal regions, such as in Arnhemland or on Groote Eylandt, Bathurst Island or Melville Island. However, boomerangs are generally not used in Arnhem Land, so the boomerang probably came from just south of Arnhemland or was procurred as a trade item and then painted. Most of the ceremonial paint is still intact, but there are some regions where the paint has worn off. There are a couple of very fine age cracks in the wood near the heavy end. This is the result of moisture loss with age and is not damage. This throwstick is one of the oldest ones that I have seen with the paint intact. It is probably from the early 20th Century. Length = 72 cm , Weight = 420 gm
This throwstick is from the estate of Dain Torguson. The family will use the proceeds of the sale of this item to finish and diplay an unfinished sculpture by Dain. The sculpture will reside in a public library in Rapid City, North Dakota.
---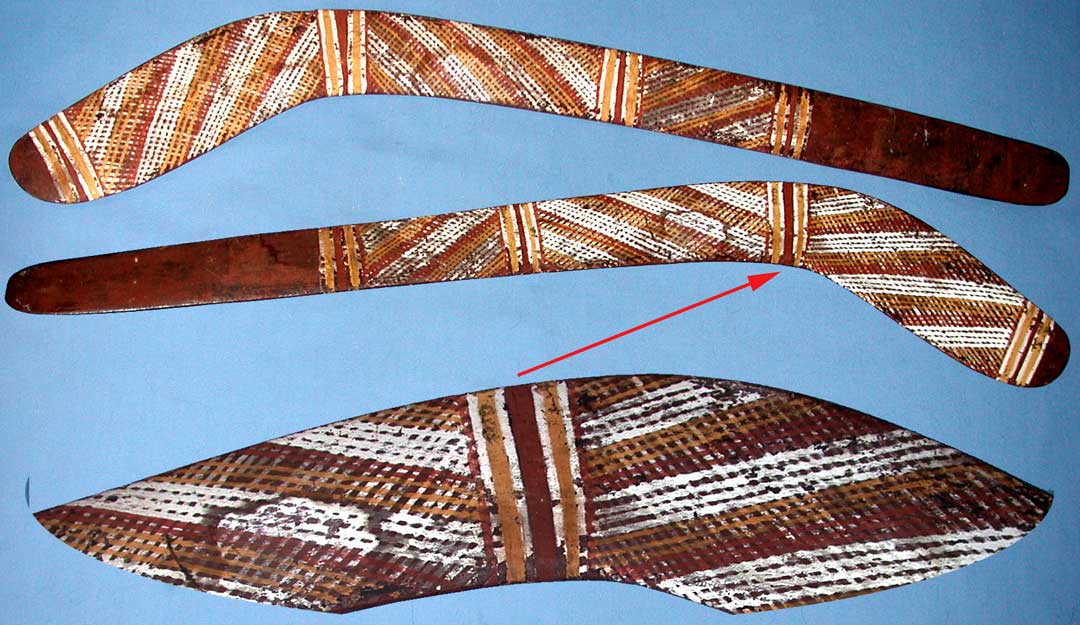 ---
Back to Collectable Artifacts | Aboriginal Throwsticks | Historical Artifact Prices | Primitive Technology | contact: Ted Bailey