Leopard Hunting Spear Point - Africa, 1950s

Item CT04

This Item was Sold on 9 July 2009 for $48
---
Similar artifacts for sale are often found on the African Artifacts web page.

Historical Pricing information for this item and similar artifacts can be found at: Historical Artifact Prices.
---
This large and heavy spear point is African. Acquired in the 1950s, this spear point was affixed to the end of a shaft and used by young African warriors to prove their manhood by killing a leopard. The warrior would entice a leopard to leap on him and the warrior would place the spear with the butt affixed to the ground to impale the leopard on the end of the spear. The spear point is iron or steel. The surface is rusted throughout, but this is not a heavy incrustation as much of the original surface on the spear tip does show through. Length = 37 cm ; Weight = 520 gm
This artifact is from the estate of Dain Torguson. The family will use the proceeds resulting from the sale of this item to finish and diplay an unfinished sculpture by Dain. The sculpture will reside in a public library in Rapid City, North Dakota.
---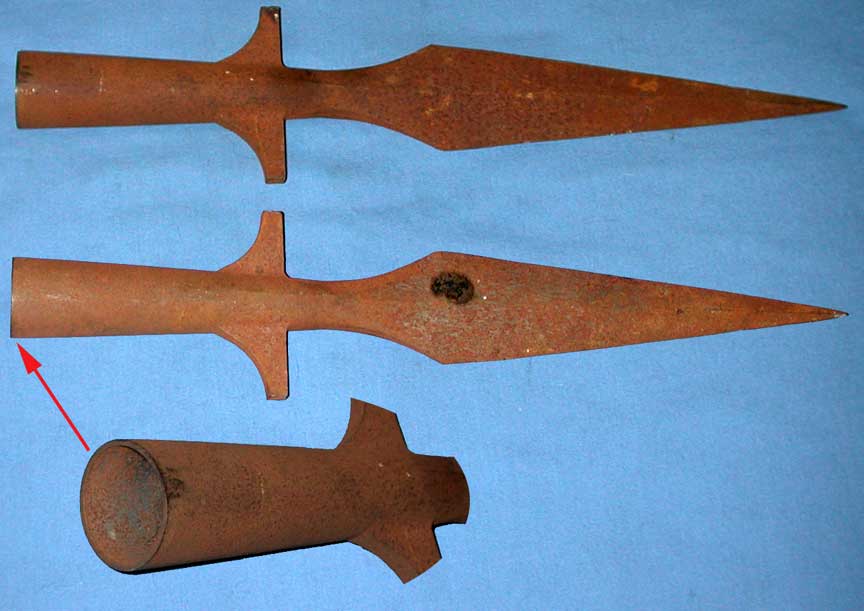 ---
How to Order | Back to: African Artifacts | Collectable Artifacts | Historical Artifact Prices | contact: Ted Bailey