Very Long Masai Elders' Spear with Forged Leaf Blade

Item CT14

This Item was Sold on 3 May 2012 for $170
---
Similar artifacts for sale are often found on the African Artifacts web page.

Historical Pricing information for this item and similar artifacts can be found at: Historical Artifact Prices.
---
This long African spear is a very old [19th Century] Masai Elders' Spear with a long forged iron leaf shaped head, natural sapling haft. and forged iron [counter weight] butt. This spear was purchased from Fagan Arms in the 1990s. The leaf shaped head has a length of 19 cm and the entire length of the forged head with foreshaft is 87 cm. The width of the leaf shaped head is 5 cm. The length of the iron butt is 38 cm. No cracks in the shaft. The leaf shaped spear point has a small curl at the tip. Because this spear is very long, it can only be shipped to an address in the USA. Length = 196 cm ; Weight = 790 gm
This artifact is from the estate of Dain Torguson. The family will use the proceeds from the sale of this artifact to display a sculpture crafted by Dain in a public library in Rapid City, North Dakota.
---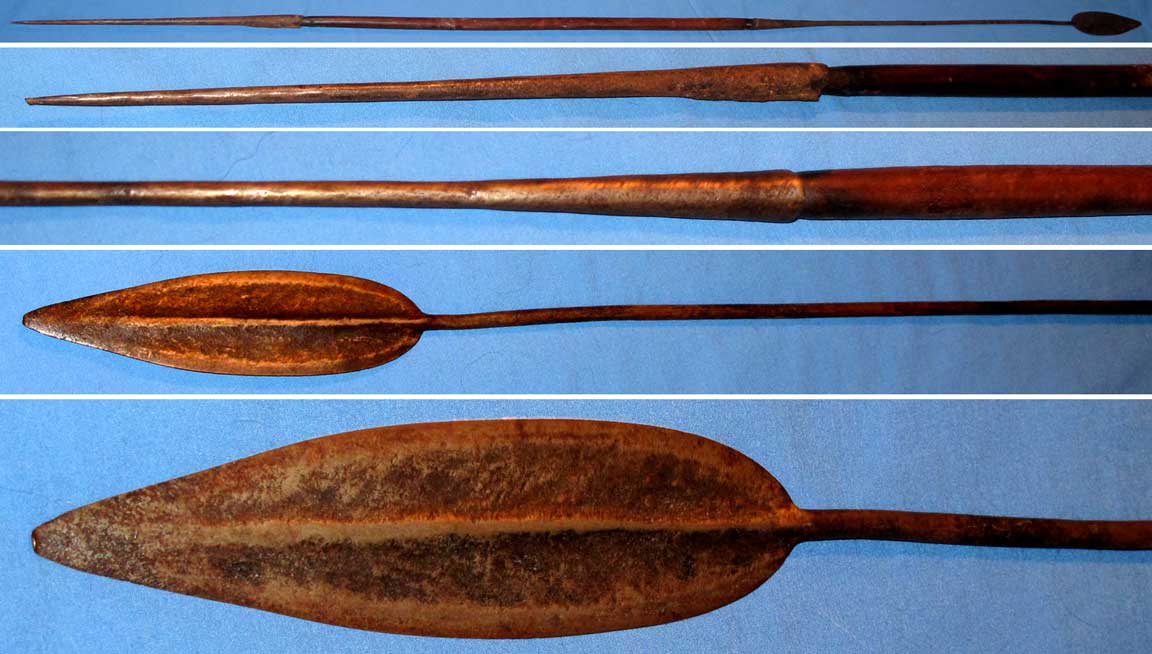 ---
How to Order | Back to: African Artifacts | Collectable Artifacts | Historical Artifact Prices | contact: Ted Bailey