New Guinea Bow with Six Cane Arrows

Item CT26

This Item was Sold on 26 October 2011 for $187
---
Similar artifacts for sale are often found on the Oceanic and Indonesian Artifacts web page.

Historical Pricing information for this item and similar artifacts can be found at: Historical Artifact Prices.
---
This heavy bow was made out of a hardwood sapling and carved with a semicircular cross section. The bow is thickest at the midsection and it tapers towards the tips. The tips are sharpened for attaching the cord. The bow is no longer flexible and there is no damage visible on the surface. There is a bow string, but it is not made out of indigenous materials. The six arrows are made out of cane and they appear to be a matched set. There is no fletching on any of the arrows. The tips are made out of palm wood and there are decorative bands incised in the cane near the barb attachment. Because of it's length, it would be very difficult to ship this item overseas.
Bow: Length = 144 cm ; Weight = 360 gm
Arrows: Length = 122 cm -> 143 cm ; Weight = 256 gm (all 6 arrows)
This artifact is from the estate of Dain Torguson. The family will use the proceeds from the sale of this artifact to display a sculpture crafted by Dain in a public library in Rapid City, North Dakota.
---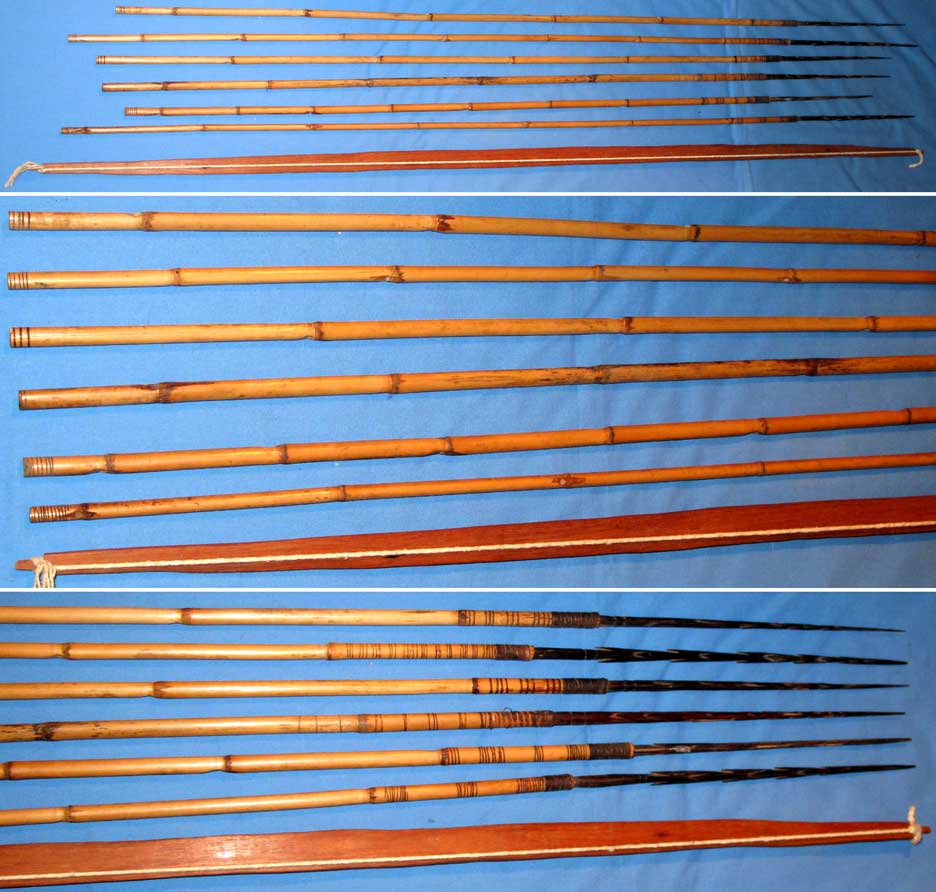 ---
How to Order | Back to: Oceanic and Indonesian Artifacts | Collectable Artifacts | Historical Artifact Prices | contact: Ted Bailey