Incised Aboriginal Parrying Shield with Ceremonial Paint

Item ID01

This Item was Sold on 20 July 2011 for $500
---
Similar artifacts for sale are often found on the Australian Aboriginal Artifacts web page.

Historical Pricing information for this item and similar artifacts can be found at: Historical Artifact Prices.
---
This item is aan old Aboriginal parrying shield made out of a heavy hardwood (probably Mulga) and painted with ceremonial paint on the exterior face. The exterior face also has linear grooving running most of the length, except in one section where the grooves curve as though it was depicting a map or a message. The cermonial paint is green and white and it is applied in a pattern that is out of synch with the grooving so that it looks like it is displaying more than one message in the art. This is very unusual. The wood and grooving looks like it was made by Central Desert Aborigines. It was acquired by the aunt of the owner when she was on a trip to Australia and New Zealand just after World War I. Therefore, this shield is nearly 100 years old. The construction is pre-contact, but the paint may have been supplied by modern Australians. It is in excellent condition, but there are some chips and stable age cracks on the interior surface as expected. One of the nicest Aboriginal shields I have seen.
Length = 67 cm ; Width = 9 cm ;Weight = 772 gm
---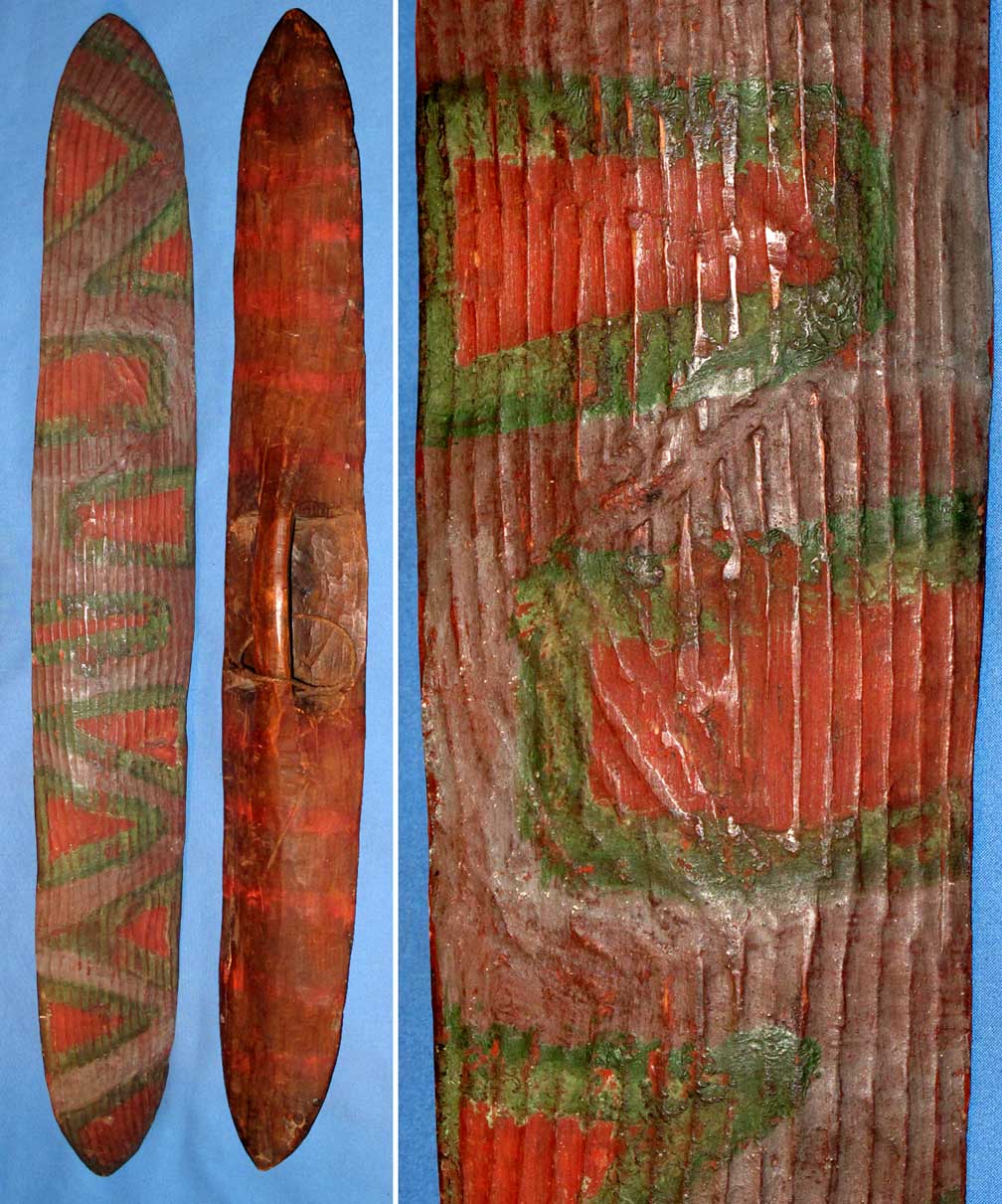 ---
How to Order | Back to: Aboriginal Artifacts | Collectable Artifacts | Historical Artifact Prices | contact: Ted Bailey