Aboriginal Hardwood Coolamon

Item TB193

This Item was Sold on 8 February 2012 for $23
---
Similar artifacts for sale are often found on the Australian Aboriginal Artifacts web page.

Historical Pricing information for this item and similar artifacts can be found at: Historical Artifact Prices.
---
This Aboriginal coolamon was made out of a tan colored hardwood. It is decorated on the exterior surface with pyrographic art. Coolamons with similar art were made in the Central Desert of Australia by Aborigines in the 1930s thru the1960s. I have seen similar coolamons in books saying that these were made by the Pitjantjatjara. Coolamons are multipurpose bowls that are used for food preparation. They are also used for the grinding of ochre minerals and for the preparation of vegetables and herbs. This bowl is slightly smaller than the average coolamon. There are two small chips on the edges and the decorated exterior surface is abraded at one end. It is still a very nice coolamon and will display well.
Please note: A set of 4 similar coolamons recently sold on eBay for $155. The eBay coolamons had worm holes and they were sanded flat on the support surface of the convex side. This coolamon is in much better shape. For comparison, click here to see the coolamon set that was sold on eBay.
Length = 23 cm ; Width = 11 cm ; Depth = 5 cm ; Weight = 176 gm
---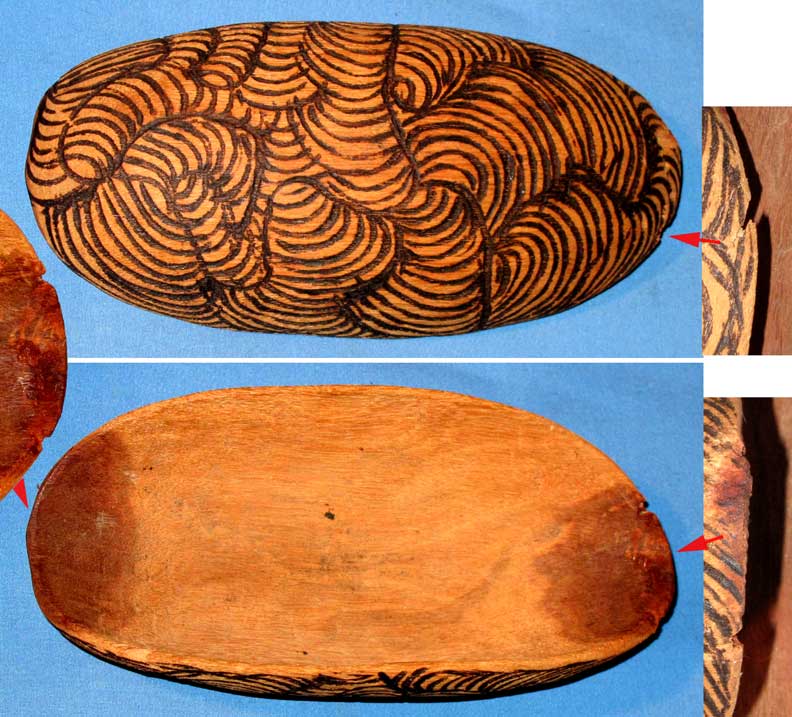 ---
How to Order | Back to Collectable Artifacts | Aboriginal Artifacts | Historical Artifact Prices | contact: Ted Bailey