Australian Aboriginal Western Desert Hardwood Shield

Item TB51

This item was sold on 2 June 2007 for $208
---
Similar artifacts for sale are often found on the Australian Aboriginal Artifacts web page.

Historical Pricing information for this item and similar artifacts can be found at: Historical Artifact Prices.
---
This item is a hardwood shield with an integral handle carved into the reverse side. The front side is beautifully decorated with a large number of shallow incised lines that cross in many different directions in parallel sets to provide a woven fabric appearance (see photo). This shield was probably made in the early to mid 1900s. It is undamaged, other than natural surface flaws and tiny age cracks that appear in these older artifacts as the wood looses moisture. This natural shrinkage has left a beautiful ripple effect (fiddleback pattern) in the dark wood on the inside surface. At one end is a natural crack that is sealed with Spinifex resin. There is also a very small hole in the side of the handle of unknown origin. The shield is not flat, it curves in a gentle arc as you go from tip to tip to provide maximum protection to whomever uses this shield in battle. Length = 66 cm , Weight = 810 gm.
---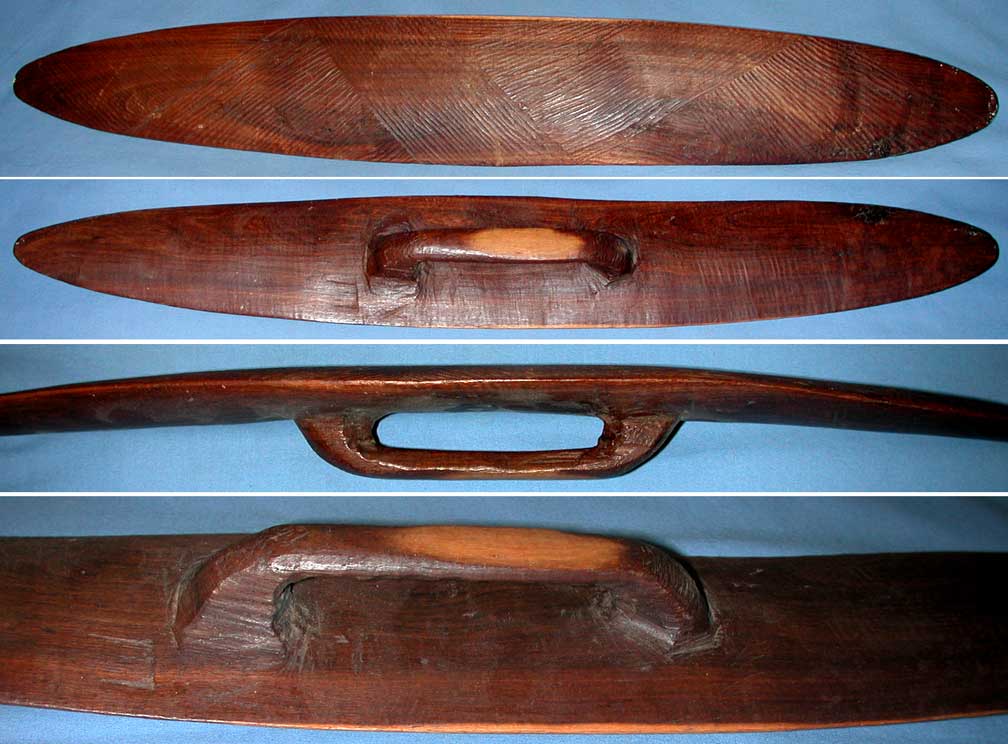 ---
Back to: Collectable Artifacts | Australia Aboriginal Artifacts | Historical Artifact Prices | Primitive Technology | contact: Ted Bailey