Peoples of the Earth Volume One Australia and Melanesia

Item BBR26

This Item was Sold on 7 October 2010 for $2
---
Similar artifacts for sale are often found on the Anthropology Books web page.

Historical Pricing information for this item and similar artifacts can be found at: Historical Artifact Prices.
---
Peoples of the Earth Volume One Australia and Melanesia (including New Guinea) ( ASIN: B000O5YUNY )
Author: Tom Stacey ; Publisher: Danbury (1973) ; Hard Cover : 144 pages ; English
This hard cover book is the first volume in a series of 20 volumes about people from all over the Earth. This first volume is about the peoples of Australia and Melanesia and New Guinea. The chapters include: White Australians, Aborigines from different regions, New Guinea (with seperate chapters on Highlands and Asaro Valley), Trobriand Islanders, Solomon Islanders, Tannese, Pentacost Islanders & a lot more. The glossary in the back is really good. This book is in very good condition, but it does have some library markings, some soiling on the front cover and the last (blank) page has been removed.
---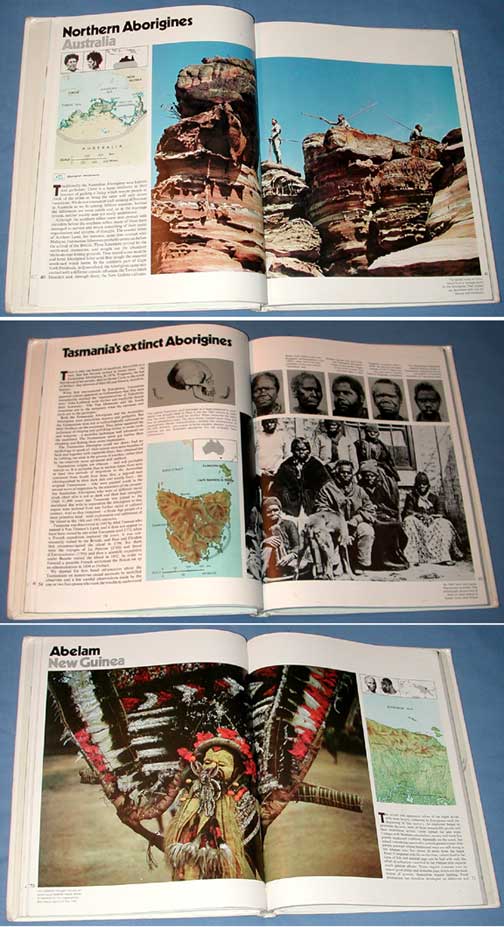 ---
How to Order | Back to: Flight Toys Bookstore | Anthropology Books | contact: Ted Bailey