Maori Warfare by A.P. Vayda

Item BBR87

This Item was Sold on 7 October 2010 for $54
---
Similar artifacts for sale are often found on the Anthropology Books web page.

Historical Pricing information for this item and similar artifacts can be found at: Historical Artifact Prices.
---
Maori Warfare
Publisher: A. H. & A. W. Reed ; Author(s): A. P. Vayda ; 1970 ; Hard Cover with DJ : 141 pages ; English ; ISBN: 0589004921 / 978-0589004927 ; ASIN: B000H4345C
Thi study by an anthropologist gives a clear, coherent, and carefully documented description of Maori warfare in its last stage of evolution before its character was greatly altered by European weapons and ways. The book shows Maori warfare in relation to the New Zealand environment in which the Maori people worked and fought. Dr. Vayda's discussions of cannibalism, slavery, the exploitation of conquered land, and other aspects of warfare in pre-European New Zealand will increase our understanding and perhaps modify some accepted views in this field. Ex-Peabody Library with library markings and tear on last blank page from removal of library pocket. Binding tight. DJ is in VG condition with protective plastic cover. Pages are very clean. A rare book and very hard to find anywhere, especially in North America.
---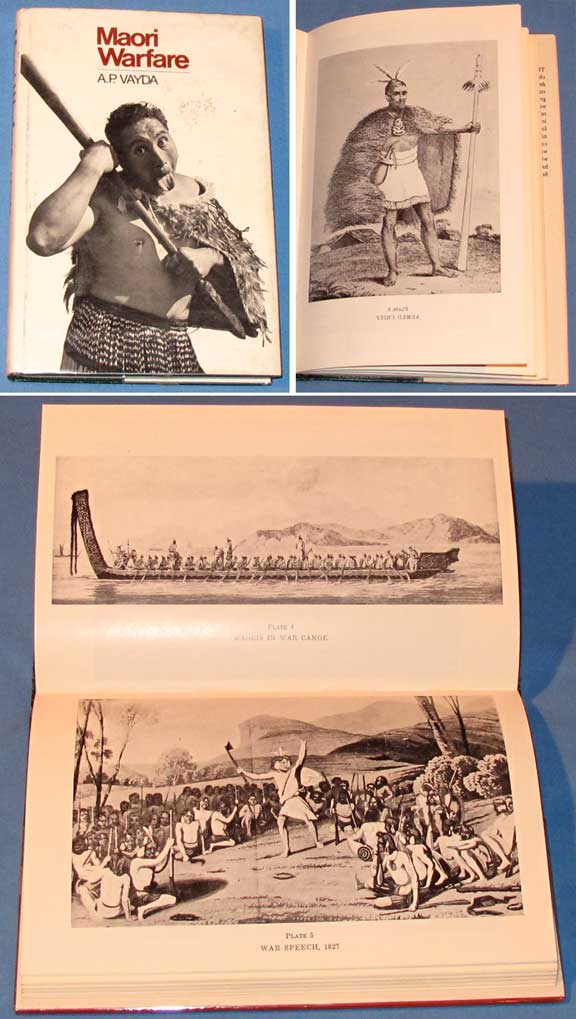 ---
How to Order | Back to: Flight Toys Bookstore | Anthropology Books | contact: Ted Bailey