Ancestral Connections by Howard Morphy

Item BBR89

This Item was Sold on 2 June 2012 for $14
---
Similar artifacts for sale are often found on the Anthropology Books web pages.

Historical Pricing information for this item and similar artifacts can be found at: Historical Artifact Prices.
---
Ancestral Connections: Art and an Aboriginal System of Knowledge ( ISBN: 0226538664 )
Publisher: University Of Chicago Press ; 1992 ; Author(s): Morphy, Howard ; Soft Cover : 329 pages ; English
Ancestral Connections unlocks the inner meaning of Australian Aboriginal bark paintings. Drawing on more than ten years of fieldwork among the Yolngu, an Aboriginal people from Northeast Arnhem Land and applying both anthropological and art historical methods, Howard Morphy explores systematically the graphic representation of traditional knowledge in Yolngu art. He also charts the role that art has played in Aboriginal society both present and past. The rich symbolism of Yolngu art links the Yolngu directly with the "Dreaming," the time of world-creation that continues as the spiritual dimension of the present. Morphy shows how a complex dialectic of "inside" and "outside" interpretations of painting structures the system of knowledge in Yolngu society, and how European interest in this art has caused certain changes in the conditions of its production. The "inside" significance of the art, however, has not changed; it retains its dual ability to represent and to constitute relations between things. Ancestral Connections is a major contribution to the anthropology of art. A subtle commentary on the colonial encounter in northern Australia, it demonstrates how the Yolngu have used their art against all odds as an instrument of cultural survival and as a component of the economic and political transformation of their society. The binding is tight. The pages are clean. Excellent condition except for a light crease at bottom right of front cover.
---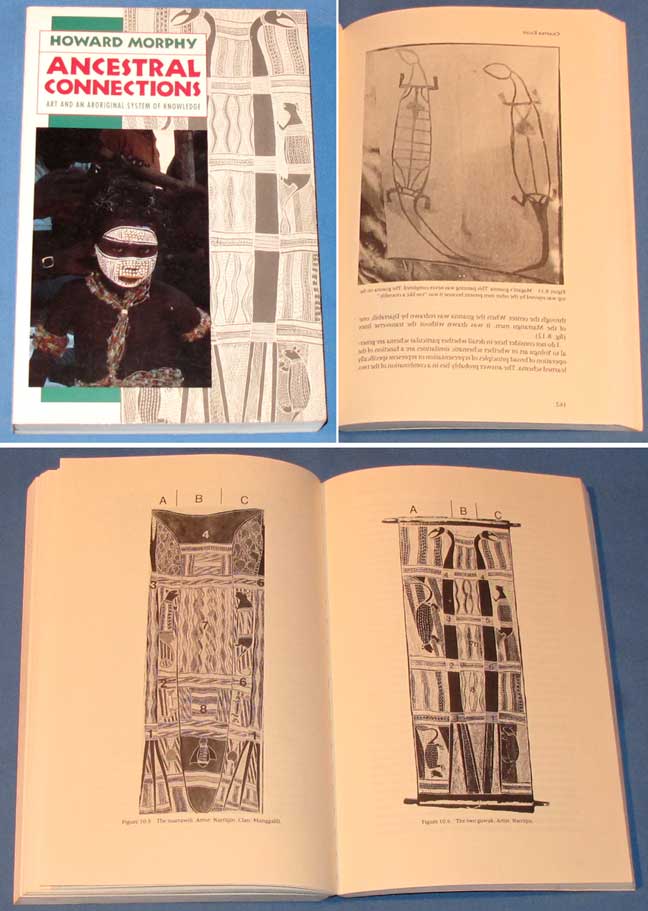 ---
How to Order | Back to: Flight Toys Bookstore | Anthropology Books | contact: Ted Bailey