Kunst vom Sepik - 3 Volumes by Heinz Kelm

Item BBR91

This Item was Sold on 6 June 2011 for $400
---
Similar artifacts for sale are often found on the Anthropology Books web page.

Historical Pricing information for this item and similar artifacts can be found at: Historical Artifact Prices.
---
Kunst vom Sepik - Volume I, II, III (1966)
Publisher: Museum Für Völkerkunde Berlin, Berlin ; Author(s): Heinz Kelm ; Paper Bound : German language
Book Condition: Good - Very Good. All three vol. used condition, binding very good, all pages fine and clean. Minor nicks to edges, some weaknes in cover, spine corners from use, minor reading folds to spine,. Vol. I: 40 pg. of Foreword & Introduction. 4 color & 500 b/w illustr., 108 pg. of detailed descriptions of 500 objects. Orig folding map missing from inside back cover. Vol. II: 19 pg. of Introduction. 243 b/w illustr, 38 pg. of detailed descriptions of 243 objects. Vol. III: 40 pg. of Introduction. 7 colour & 550 b/w illustr. 164 pg. of detailed descriptions of 550 objects. The larger part of the 1293 Sepik objects depicted and described were collected in New Guinea by the members of the 1912-13 "Kaiserin-Augusta-Fluss Expedition". Also included are some objects collected by German officials after 1887. Weight 2,3 kg. Very rare and nice.
---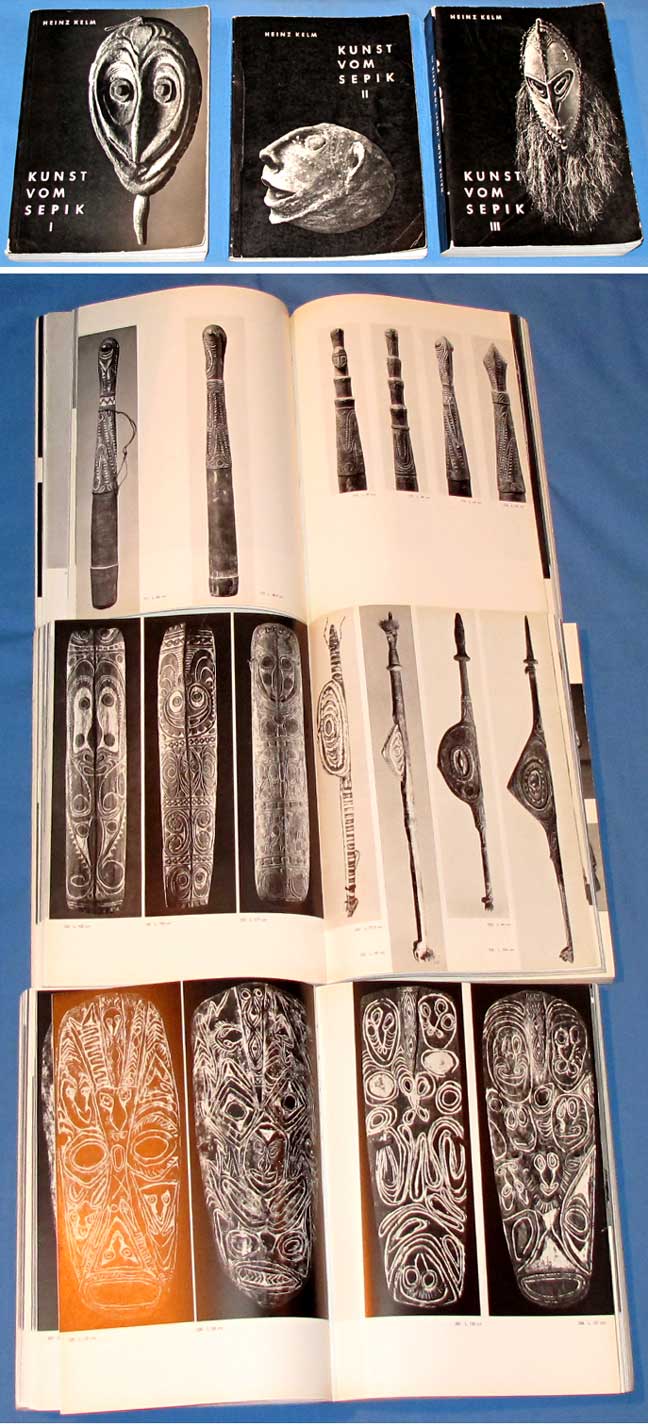 ---
How to Order | Back to: Flight Toys Bookstore | Anthropology Books | How to Order | contact: Ted Bailey