Across Australia Volume II by Spencer and Gillen

Item BJO01

This Item was Sold on 2 September 2012 for $35
---
Similar artifacts for sale are often found on the Anthropology Books web pages.

Historical Pricing information for this item and similar artifacts can be found at: Historical Artifact Prices.
---
Across Australia Volume II
Author(s): Sir Baldwin Spencer & Francis James Gillen ; Publisher: Macmillan and Co., London (1912) Second Edition ; ; Hard Cover : 260 pages ; English
This hard cover book is the second edition of the second volume of a two book set with pages between 255 and 515. Hard cover and loaded with illustrations of Aborigines and Aboriginal artifacts. There are also some maps. The authors travelled throughout Central Australia and documented everything that they saw related to the Aboriginal culture. This book is very rare. I could only find one other copy for sale while doing an internet search. The binding is fairly good for such an old book. There is some wear in the cloth covering at the edge of the spine. There is a slight bow to the boards because of shelf storage. Volume II is really great by itself and it doesn't need Volume I.
---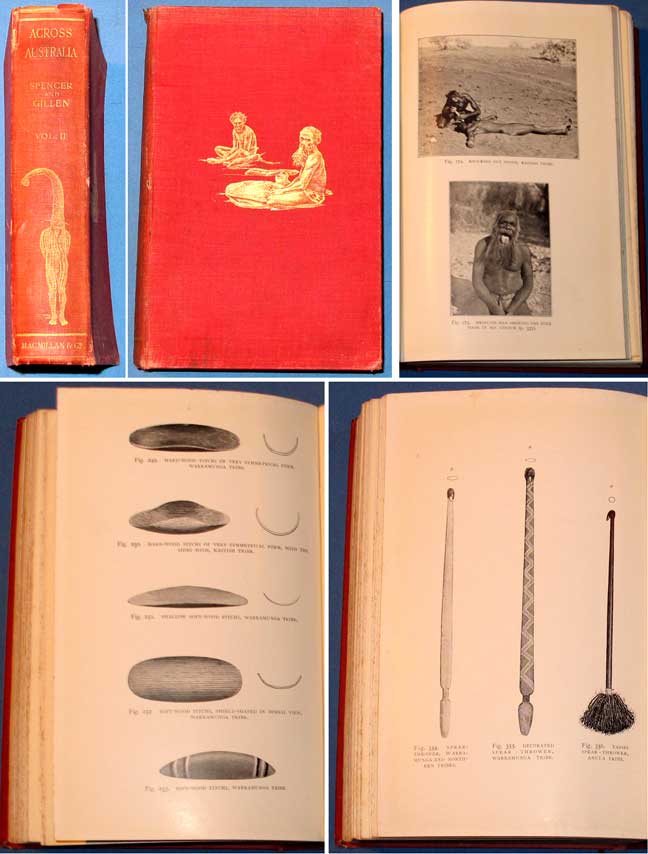 ---
How to Order | Back to: Flight Toys Bookstore | Anthropology Books | contact: Ted Bailey