Admiral Hat Omega Boomerang by Les and Arthur Janetzki

Item AG12

This Item was Sold on 11 September 2012 for $555
---
Other collectable boomerangs for sale can be found on the Collectable Boomerangs link.

Historical Pricing information for this item and similar collectable boomerangs can be found on the Boomerang Pricing Guide
---
This sport boomerang was made out of 5 ply plywood by Les and Arthur Janetzki in the early 1980s. It has RJR and "The Admiral" printed neatly on the reverse side of the elbow and Aboriginal style art on the upper surface with a goanna on the elbow. This model was a favorite sport boomerang of the highest ranking Australian throwers. This particular boomerang was given to Al Gerhards by the Janetzki Brothers after his visit to Australia in 1981. It is in mint condition and it is one of the most desireable boomerangs in the world. Because this one was given to Al Gerhards, I expect it to be a superb flyer. This boomerang is a valuable collectable with a wonderful pedigree. To a good home only, please!
Specifications: Right Handed ; Tip-to-tip Span = 36 cm ; Weight = 90 gm
---
The Janetzki brothers (Les & Arthur) made some of the finest competition and sporting boomerangs in the 20th Century. Les & Arthur made very few boomerangs and very few were sold. Instead, they were given away as gifts to other throwers that they met at tournaments. Les & Arthur Janetzki were Vaudeville performers in the early 1900s. After they retired in the 1960s, they started making and throwing boomerangs at their home in the town of Albury, Australia. They continued with their boomerang hobby until their death nearly three decades later. Les constructed his own plywood by laminating packing box boards together, shaping the airfoils and sanding them smooth. Arthur would apply the art work. When they were done, they had a wonderful flying piece of art with legendary performance in events such as Accuracy, Consecutive Catch and Australian Round. These boomerangs worked so well that they were nicknamed the "Rolls Royce" of all boomerangs and with Brother Brian Thomas' encouragement, they painted the initials "RJR" on the underside. The "RR" was for "Rolls Royce" and the "J" stood for "Janetzki". Owners of these fine boomerangs have been reluctant to sell them. Janetzki boomerangs can still be found in the throw kits of the most seasoned competitors as well as in the best collections. Premium Janetzki boomerangs can sell for hundreds of dollars and some of the finest examples have sold for more than $1,000!
---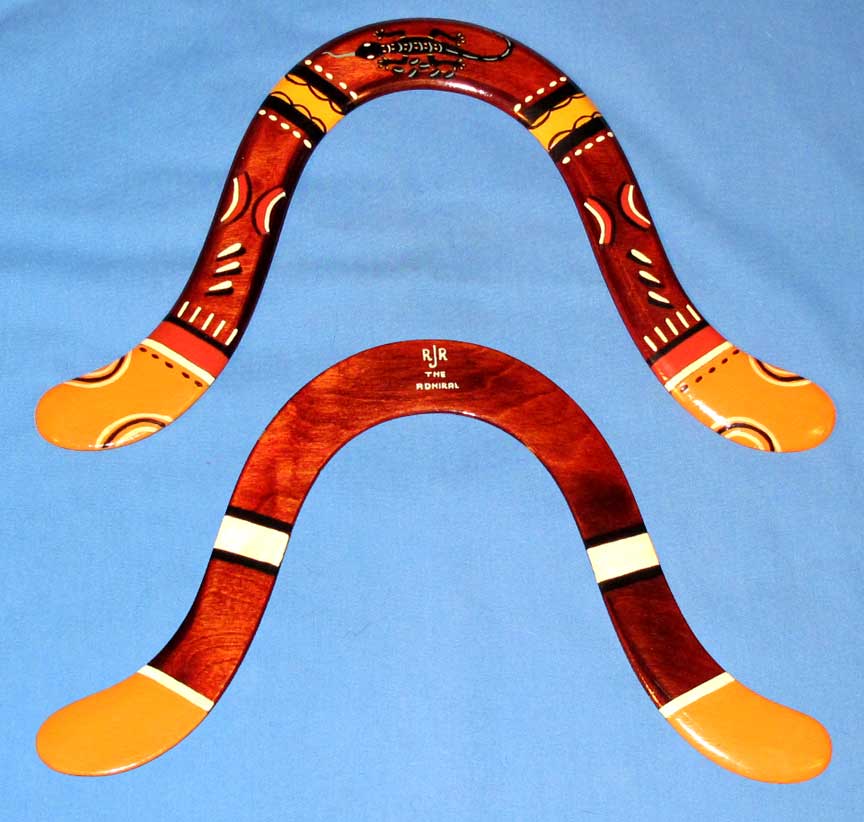 ---
How to Order | Back to: Boomerang Catalog | Collectable Boomerangs | Boomerang Pricing Guide | contact: Ted Bailey