Aboriginal Return Shape Boomerangs

A selection of Australian Aboriginal returning shape boomerangs. Many of these have nice Aborginal art work.
Aboriginal Hunting Boomerangs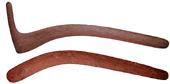 A selection of fine old Australian Aboriginal hunting boomerangs, also called throwsticks. Many of these are museum quality.
Primitive Artifacts

Aboriginal shields, woomeras, clubs & primitive artifacts from Polynesia, Africa, Asia, North & South America and more.
Lithic Artifacts

Lithic artifacts and reproductions including celts and Points from Panama and other cultures.