V60 Lap Joint Boomerang by Ted Bailey

Item AG50

This Item was Sold on 5 July 2013 for $73
---
Other collectable boomerangs for sale can be found on the Collectable Boomerangs link.

Historical Pricing information for this item and similar collectable boomerangs can be found on the Boomerang Pricing Guide
---
This is a very early lap joint made by Ted Bailey in 1984. After seeing the lap joint boomerangs made by Rusty Harding and Lorin Hawes, I wanted to make lap joint boomerangs, but I wanted to do something different. Al Gerhards suggested that I lap hardwood boards with a thickness of 1/8 inch together to make the blanks. My first lap joint boomerangs were made in 1983 out of 4 boards. In 1984, I started lapping 6 or more pieces of hardwood together to make more complicated lap joint boomerangs. This boomerangs is one of the first of the 6 piece lap joints and it was custom made for Al Gerhards out of heavy Bubinga boards with beautiful Brazilian Rosewood integrated into the tips. This boomerang is heavy and it takes a powerful throw to get a full return. It also likes some wind for optimal performance. I was 32 years old when I made this boomerang. I am now in my 60s and I lack enough power to get a complete return, but the test throw prior to listing shows that this boomerang is still properly tuned. It is also in excellent condition. The glue interface is perfect and the workmanship is very nice without scratches or dings. You can add a coating of gun oil or Tung oil if you want it to shine. Al stored this boomerang in a dark sealed box for the past 3 decades so it looks like new. You need to be a very strong throng thrower if you want this boomerang to make a complete return.
Specifications: Right Handed ; Tip-to-tip Span = 32 cm ; Weight = 116 gm
---
Ted Bailey is a retired Aerospace Engineer who has been making and throwing boomerangs since the early 1970s. The first boomerangs that he marketed were multi-bladers that he sold on the C.S.U. Sacramento campus in the early 1970s. In the late 1970s, Ted sold traditional boomerangs at the West Palm Beach Mall. In the early 1980s, Ted moved to Ohio and became an active Ohio tournament competitor. He developed a line of miniature boomerangs that performed well in competition. In the mid 1980s, new products included lap joint boomerangs made out of exotic woods and high performance competition boomerangs, especially Fast Catch and MTA. Ted was active in the USBA and served as Secretary, President and as a board member in the 1980s. He was the editor of the USBA newsletter, Many Happy Returns, for two decades and also produced two independent publications: Boomerang Journal and Boomerang News. Currently, Ted is involved in internet marketing of boomerang products (this internet catalog) and teaching math, physics and flight science in private schools located in Ann Arbor, Michigan. Find out more about Ted Bailey on the About Ted Bailey web page.
---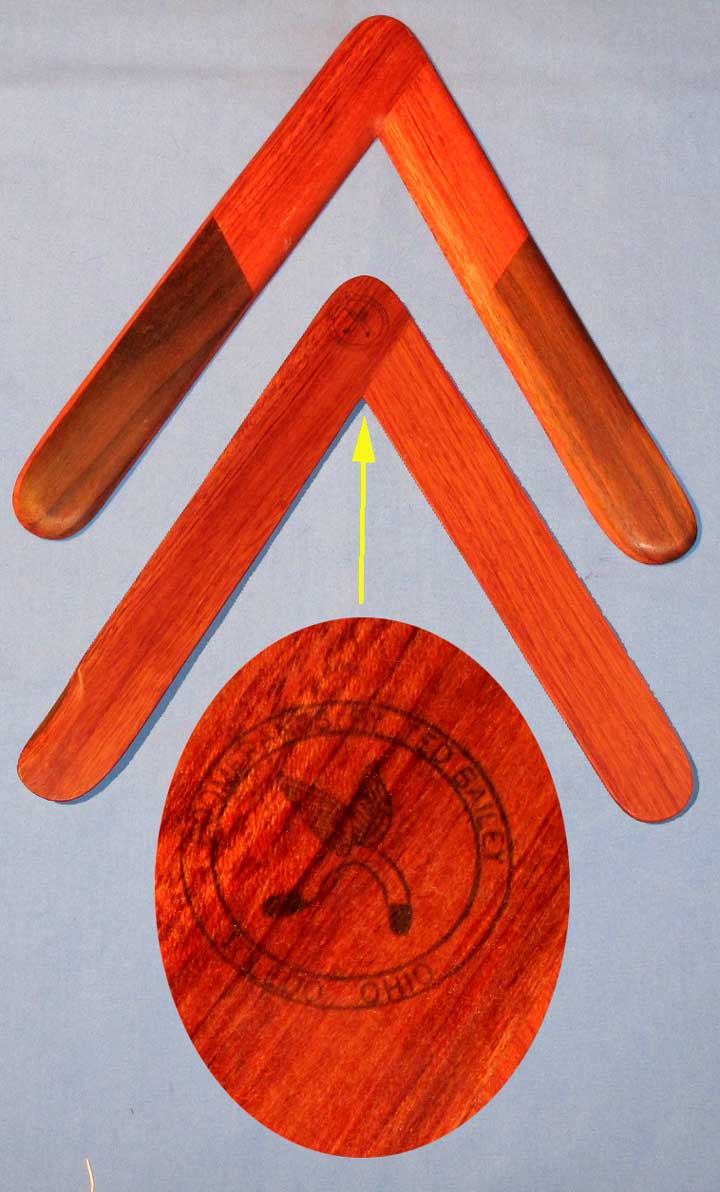 ---
How to Order | Back to: Boomerang Catalog | Collectable Boomerangs | Boomerang Pricing Guide | contact: Ted Bailey