LH Omega Lap Joint Boomerang by Ted Bailey

Item GL01

This Item was Sold on 15 June 2013 for $130
---
Other collectable boomerangs for sale can be found on the Collectable Boomerangs link.

Historical Pricing information for this item and similar collectable boomerangs can be found on the Boomerang Pricing Guide
---
This left handed lap joint omega was made by Ted Bailey in 1985 out of boards of Cherry, Ebony, Koa and Tiger Tail Maple. This is one of only three left handed lap joints that I made for the collectible market and the three went to Peter Ruhf, Rusty Harding and George Leavens. This is the lap joint boomerang that was made for George Leavens. The blades are made out of Cherry. The black inlaid bands are strips of Ebony. There are two Australian half penny coin weights, one in each blade tip. The coins were supplied by Dr. Lorin Hawes. The coins are inlaid into a piece of Koa. The light color wood bands between the Ebony strips are Tiger Tail Maple, made from a gun stock that was 150 years old. This was one of the nicer lap joint boomerangs that I made. It is a beauty. It is from the George Leavens estate and the proceeds from this sale will go to George leavens' widow. This boomerang is in excellent condition. George kept it as a collectible. I do not think that he has ever thrown it. It had a slight warp at the elbow section when I received it in the mail. This was easily repaired by heating it in the oven to 180 F for 20 minutes and then clamping it between two flat boards. A terrific collectible in very nice condition.
Specifications: Left Handed ; Tip-to-tip Span = 33 cm ; Weight = 94 gm
---
Ted Bailey is a retired Aerospace Engineer who has been making and throwing boomerangs since the early 1970s. The first boomerangs that he marketed were multi-bladers that he sold on the C.S.U. Sacramento campus in the early 1970s. In the late 1970s, Ted sold traditional boomerangs at the West Palm Beach Mall. In the early 1980s, Ted moved to Ohio and became an active Ohio tournament competitor. He developed a line of miniature boomerangs that performed well in competition. In the mid 1980s, new products included lap joint boomerangs made out of exotic woods and high performance competition boomerangs, especially Fast Catch and MTA. Ted was active in the USBA and served as Secretary, President and as a board member in the 1980s. He was the editor of the USBA newsletter, Many Happy Returns, for two decades and also produced two independent publications: Boomerang Journal and Boomerang News. Currently, Ted is involved in internet marketing of boomerang products (this internet catalog) and teaching math, physics and flight science in private schools located in Ann Arbor, Michigan. Find out more about Ted Bailey on the About Ted Bailey web page.
---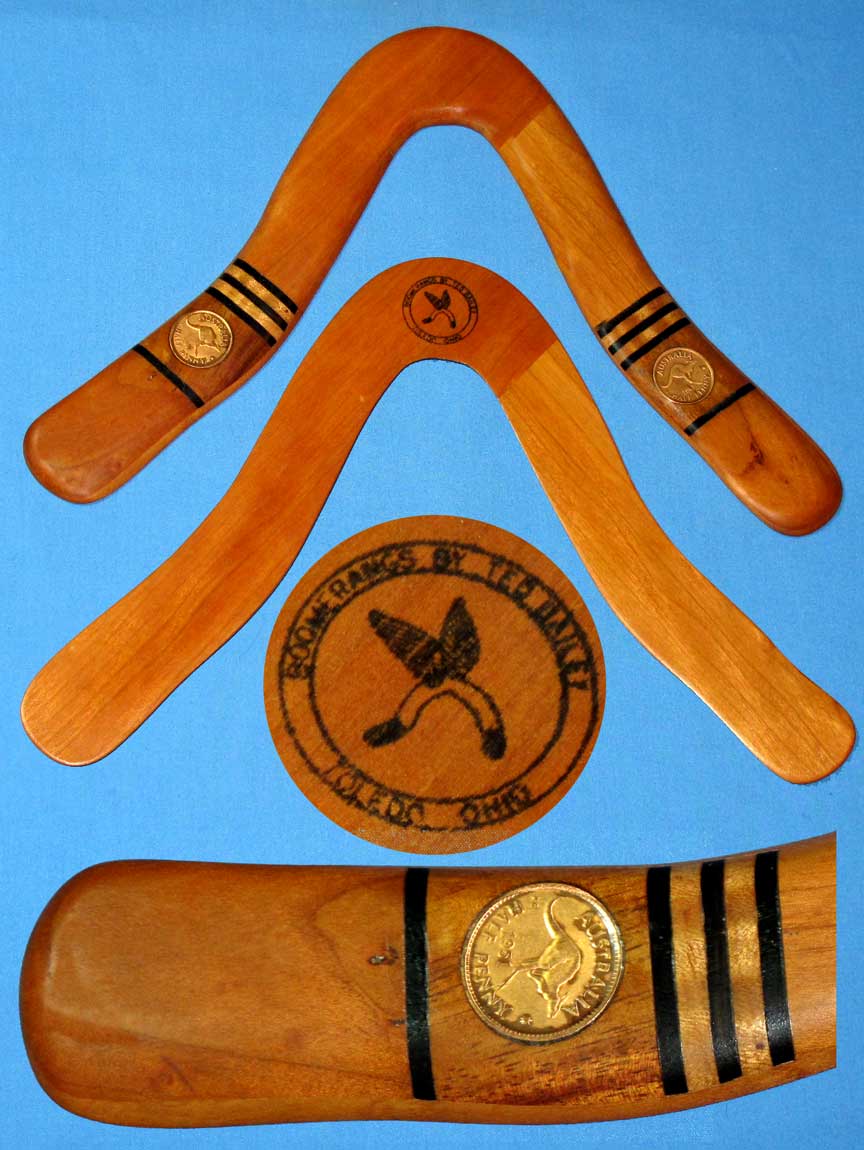 ---
How to Order | Back to: Boomerang Catalog | Collectable Boomerangs | Boomerang Pricing Guide | contact: Ted Bailey