Left Handed Small Hook by Bunny Read

Item JB24

This Item was Sold on 3 December 2012 for $56
---
Other collectable boomerangs for sale can be found on the Collectable Boomerangs link.

Historical Pricing information for this item and similar collectable boomerangs can be found on the Boomerang Pricing Guide
---
This small Bunny Read hook is a vintage model from the early 1970s. It is identical to the first boomerang I purchased from The Boomerang Man in 1974. This one is from Rusty Harding's personal collection. It has the Bunny Read art on the elbow and a pair of white stripes on each blade tip. Made out of beautiful Coachwood and with the early Wycheproof stamp and Bunny's daughter, LeeAnn's initials (LR) on the reverse side of the elbow under the stamp. Therefore, LeeAnn must have had some role in manufacturing this boomerang. The original packaging is also included, but the package has been opened. It is not new, but it is mint condition. I did test throw this boomerang and it flies 35+ metres. A very good flyer, it takes a hard straight out throw. A wonderful collectible.
Specifications: Left Handed ; Tip-to-tip Span = 30 cm ; Weight = 85 gm
---
Bunny Read was one of Australia's best boomerang throwers and a major manufacturer for many years. He is the father of Leanne Read and the grandfather of the famous Baby Ben Loveland who won an accuracy tournament when he was only 2 years old. Bunny made an assortment of really nice hooks and traditional models out of Coachwood plywood. He would paint beautiful Australian art scenes on the elbow in less than 60 seconds using a unique brush and finger painting technique. Some of the traditional boomerangs that Bunny made were very large and there is a very famous video of Bunny throwing and catching an 8 foot boomerang on the television show "You Asked For it". Bunny's daughter, Leanne, is still producing quality boomerang products for the Boomerang Man.
---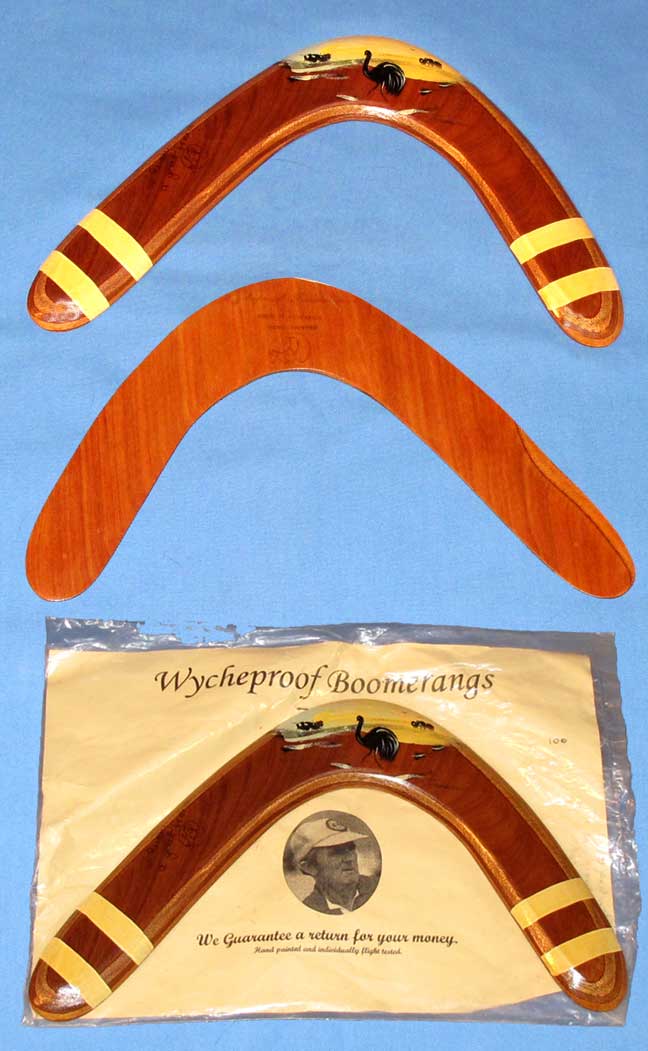 ---
How to Order | Back to: Boomerang Catalog | Collectable Boomerangs | Boomerang Pricing Guide | contact: Ted Bailey