Mulga Hardwood Hunting Boomerang by Jack Byham

Item N03

This Item was Sold on 6 March 2016 for $104
---
Other collectable boomerangs for sale can be found on the Collectible Boomerangs link.

Historical Pricing information for this item and similar collectable boomerangs can be found on the Boomerang Pricing Guide
---
This beautiful hardwood hunting boomerang was made out of Desert Mulga and decorated with Aboriginal style kangaroo art with relief carving. The airfoil and tuning is for a right handed non-returning hunting boomerang. The lower surface is smooth and without decoration. I acquired this throwstick from Rob Croll at the 1984 Challenge Match so it was probably made in the late 1970s or early 1980s. This hunting boomerang has a good feel to it and it is probably a good flyer made by a famous Aussie boomerang manufacturer. It is in excellent condition.
Span = 61 cm ; Weight = 246 gm
---
Jack Byham was one of Australia's best known boomerang manufacturers. He was a real 'Crocodile Dundee' who spent a lot of time with the Aborigines. Jack made boomerangs and throwsticks using traditional Aboriginal methods and many of his products are mistaken as genuine Aboriginal artifacts. Jack is most famous for his commercial boomerang products that spanned a half century from the Olympic Games in Melbourne (1956) through the 1990s. Jack made exceptional throwsticks and natural elbow boomerangs and these are in high demand by Australian collectors. Jack was a past president of the Boomerang Association of Australia and the founder of Binghi Boomerangs.
---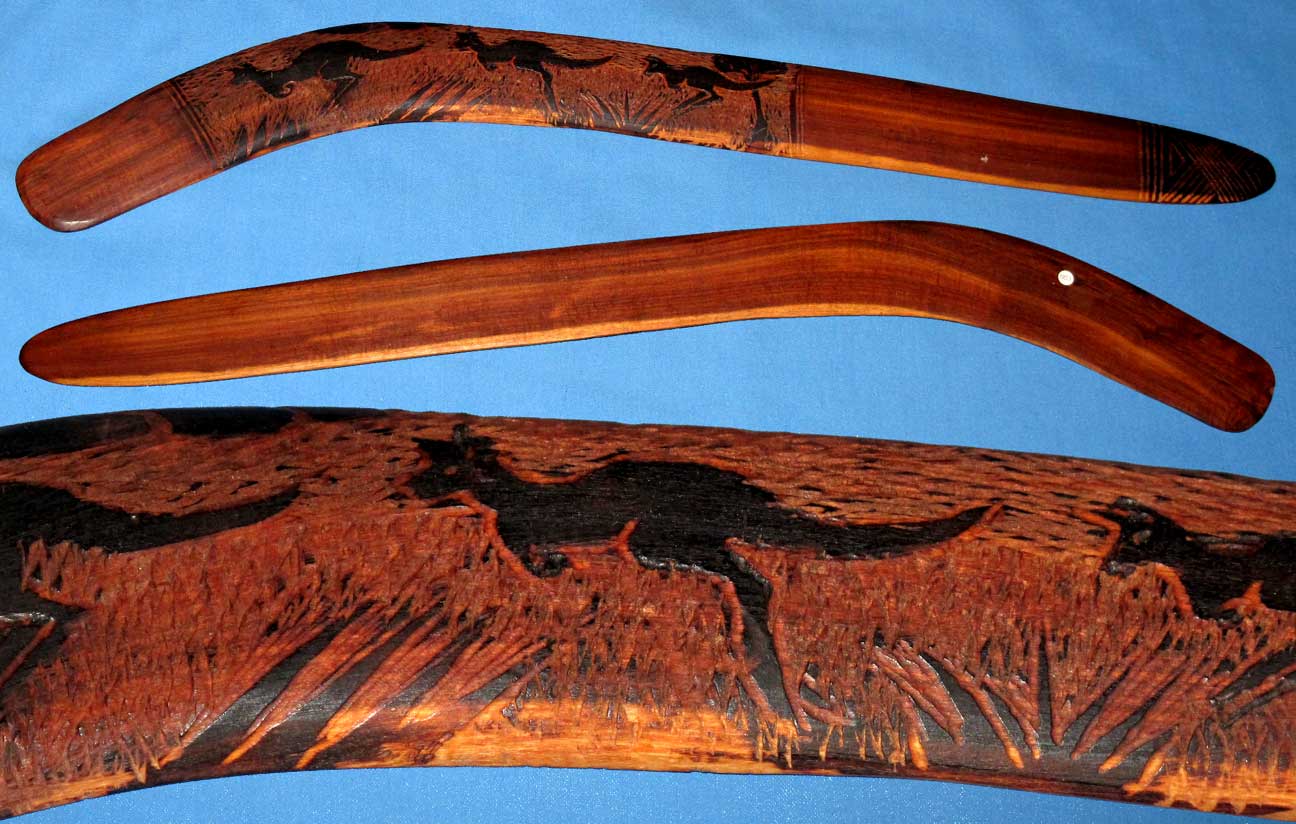 ---
How to Order | Back to: Boomerang Catalog | Collectable Boomerangs | Hardwood Boomerangs | Boomerang Pricing Guide | contact: Ted Bailey