Team Gel 1986 Omega by Mole Man

Item PK9

This Item was Sold on 5 January 2016 for $54
---
Other collectable boomerangs for sale can be found on the Collectible Boomerangs link.

Historical Pricing information for this item and similar collectable boomerangs can be found on the Boomerang Pricing Guide
---
This medium large sport omega was made by Mole Man in 1986 when he was a competitor on the famous Team Gel boomerang team. Mole Man made very few boomerangs and he only gave them to his friends. He occasionally offered his boomerangs as awards at boomerang tournaments. I won this boomerang at a tournament in 1986, It is signed by " Mole Man " and it has " Team Gel 1986 " written on the underside. This boomerang is a very nice flyer with a flight range of 40+ metres, making it a great boomerang for Aussie Round. It is in excellent condition and it is a very rare collectible made by this famous Team Gel competitor.
Specifications: Right Handed ; Tip-to-tip Span = 37 cm ; Weight = 80 gm
---
John Anthony ( a.k.a. Mole Man ) was one of the top competitors of the 1980s and 1990s. A strong member of the famous Team Gel, Mole Man added a lot of fun to tournaments. He also set a world record in Long Distance using a Carbon/Carbon Challenger III. If you want to see Mole Man in action, watch the famous video of the Palenville, New York tournament when Larry Ruhf set the world record in MTA and Mole Man chased him on a child's bicycle. Mole Man didn't make boomerangs for sale. He only gave boomerangs to his friends or he offered them as awards at boomerang tournaments. Mole Man currently owns a bowling alley in Massachusetts and continues to throw casually.
---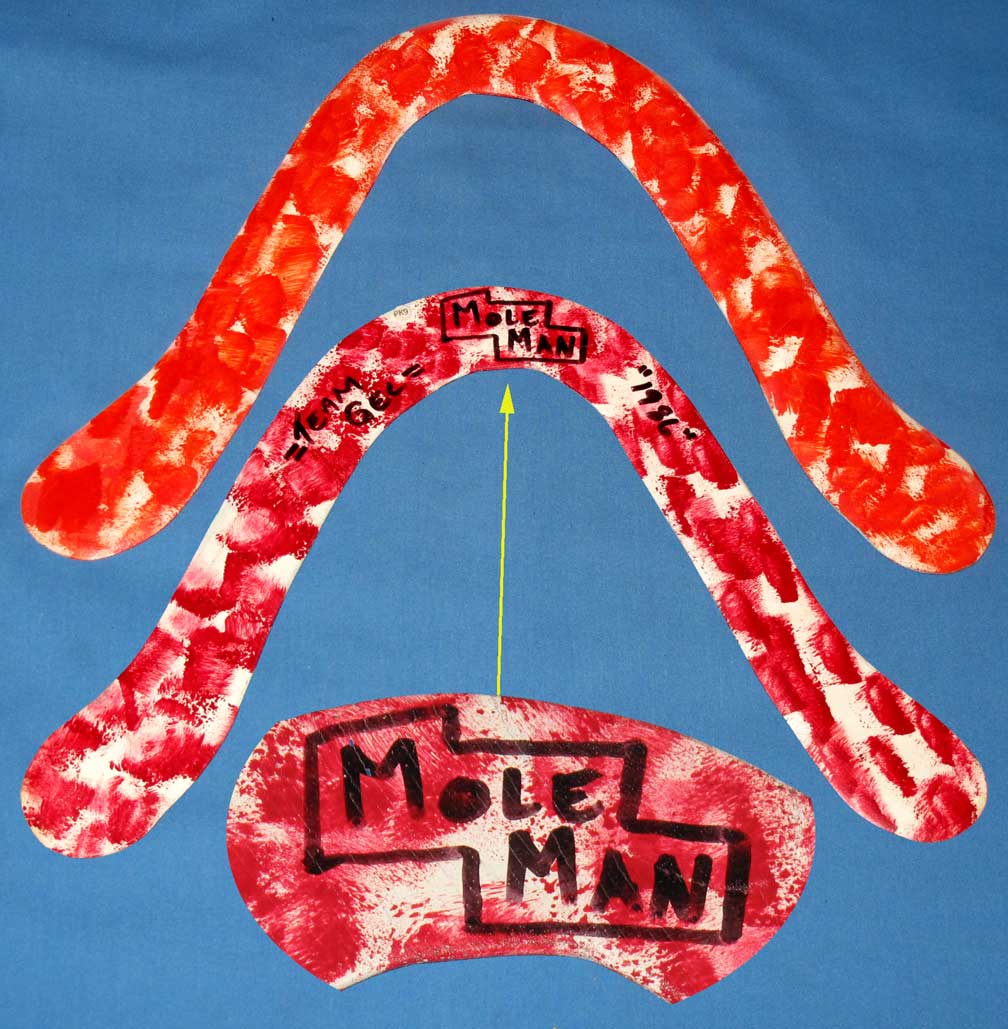 ---
How to Order | Back to: Boomerang Catalog | Collectable Boomerangs | Boomerang Pricing Guide | contact: Ted Bailey