Blistered Mahogany Hook by Dr. Fred Malmberg

Item TB290

This Item was Sold on 1 June 2012 for $94
---
Other collectable boomerangs for sale can be found on the Collectable Boomerangs link.

Historical Pricing information for this item and similar collectable boomerangs can be found on the Boomerang Pricing Guide
---
This hook is in the same shape and size as the famous Al Gerhards strip laminated standard hook. The core is 7 ply aircraft grade Birch plywood. There is a veneer of Blistered Mahogany glued to both the upper and lower surfaces. Blistered Mahogany is a rare and expensive variation of Mahogany and the grain is striking. I highly recommend that the owner oil the surfaces to bring out the natural beauty of the wood. This boomerang has Dr. Fred's footprint logo written in silver ink on the underside of the elbow and it is dated 2003. It is in excellent condition and a fine collectable.
Specifications: Right Handed ; Tip-to-tip Span = 39 cm ; Weight = 90 gm
---
Dr. Fred Malmberg is a Podiatrist from Eastern Pennsylvania who has been making and throwing boomerangs for more than 25 years. Fred's specialty is making boomerangs out of exotic hardwoods. He often makes boomerangs out of aircraft grade Birch plywood with veneers of exotic wood species on the upper and lower surfaces. Fred sands the surfaces with a cascade of sandpapers with different grits, ending with extremely fine grit that puts a super smooth surface on the boomerang. Fred usually finishes his boomerangs with oil so that they shine. These boomerangs also fly really well and Fred's boomerangs command higher prices. Very few are offered for sale, so they are terrific collectables.
---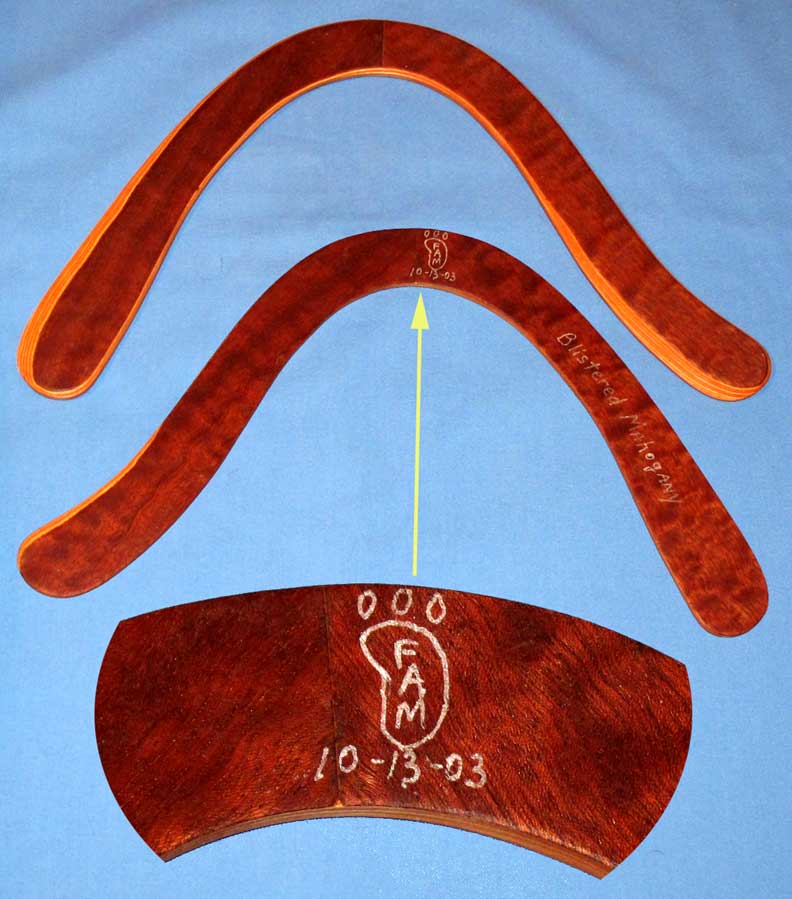 ---
How to Order | Back to: Boomerang Catalog | Collectable Boomerangs | Boomerang Pricing Guide | contact: Ted Bailey