Skills of Australia Kit by Lorin Hawes

Item TB309

This Item was Sold on 18 August 2013 for $90
---
Other collectable boomerangs for sale can be found on the Collectable Boomerangs link.

Historical Pricing information for this item and similar collectable boomerangs can be found on the Boomerang Pricing Guide
---
This is a rare and very unusual product marketed by Dr. Lorin Hawes in the 1970s. Lorin had a Boomerang Farm and it was a tourist attraction. A limited number of these Skills of Australia Kits were assembled and sold to the tourists who visited his establishment. This is one of those kits and I wouldn't be surprised if it was the only one that has survived four decades as a complete kit.
The kit includes a 4 foot plastic Didjeridoo that was made in three pieces. It has a hard rubber sleeve to assemble the two long pieces together. The kit also includes a small plastic boomerang called the " Cub ". Both the didgeridoo and the boomerang work well. Perhaps the most valuable piece of this kit is a transparent plastic 33 RPM record. One side of this record has instructions for playing the didjeridu. The other side of the record has instructions for throwing the boomerang. The voice on both sides of this record belongs to Lorin Hawes. The box is old and made out of cardboard. It is in fairly good condition considering its age, but there are tears in the seam at one end. At least it is complete and functional. Overall, this is a very unusual and rare collectible. Because of size, it will cost extra to ship this item.
Specifications for Complete Kit : Length = 64 cm ; Weight = 836 gm

Boomerang Specifications: Right Handed ; Tip-to-tip Span = 30 cm ; Weight = 56 gm

Didgeridoo Specifications: Length = 125 cm ; Weight = 548 gm

Record Specifications: Diameter = 17 cm ; Weight = 4 gm
---
Lorin Hawes is one of Australia's most famous boomerang manufacturers. Lorin is an American who emigrated to Australia in the early 1960s. He started a boomerang factory that produced large quantities of wonderful plywood traditional boomerangs. The Wham-O plastic traditional boomerang is based on Lorin's famous M-17 design. Lorin occasionally made special traditional boomerangs out of lapped Australian hardwood boards. The most famous of these lapped boomerangs is the Silky Spinner which was made out of Silky Oak (also called Lacewood in the USA). Lorin also made Spinners out of other Aussie hardwoods such as Blackbean and Hoop Pine. Lorin is also well known for the wonderful book that he authored titled " All About Boomerangs ". Lorin passed away several years ago. Lorin's daughter, Jenny Stone, had a thriving boomerang business with her husband called Stones Throw.
---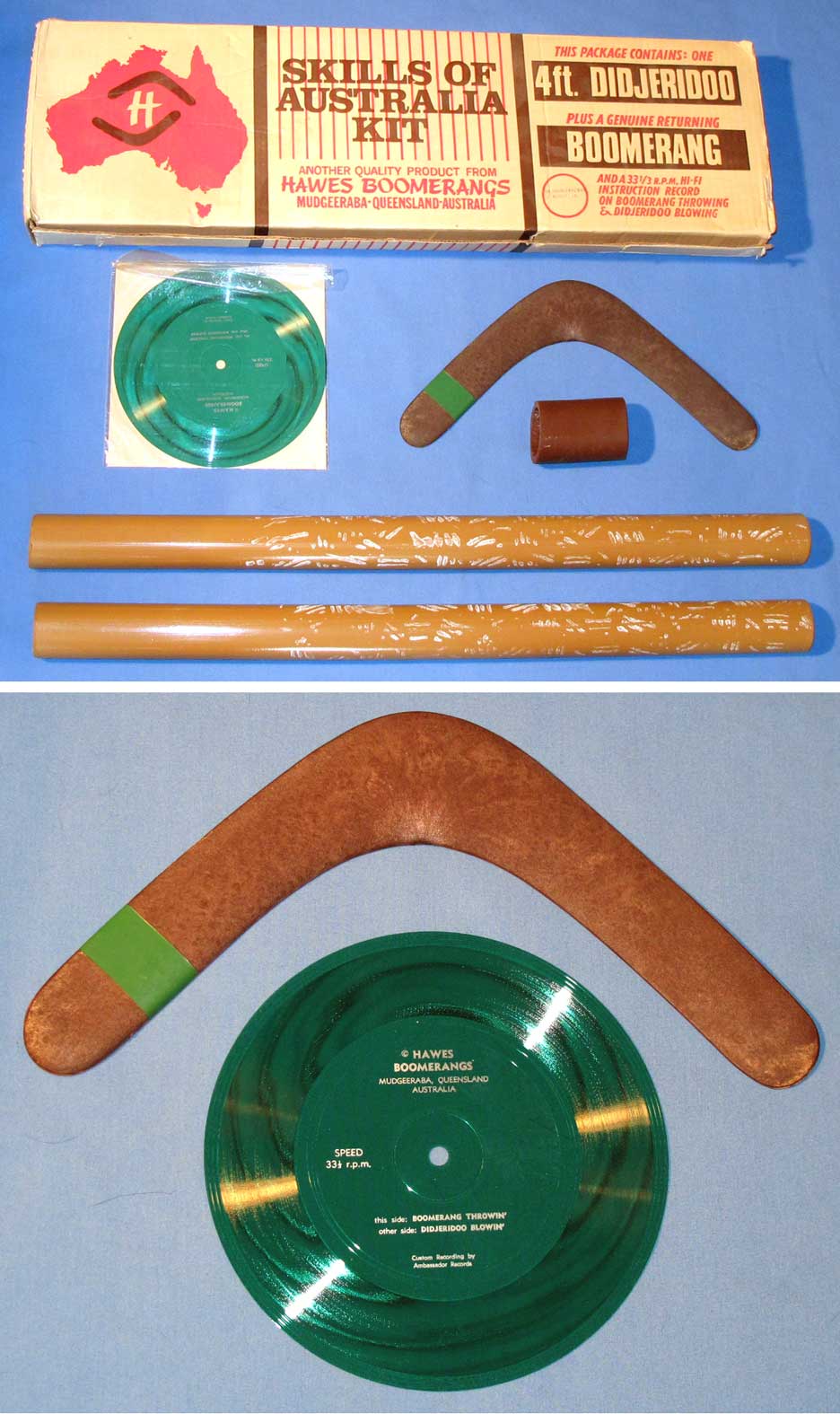 ---
How to Order | Back to: Boomerang Catalog | Collectable Boomerangs | Boomerang Pricing Guide | contact: Ted Bailey