Collapsible Pocket Traditional by David Schummy

Item TB396

This Item was Sold on 20 May 2017 for $79
---
Other collectable boomerangs for sale can be found on the Collectable Boomerangs link.

Historical Pricing information for this item and similar collectable boomerangs can be found on the Boomerang Pricing Guide
---
David Schummy made this innovative folding traditional boomerang for Max Hoeben in 1982. The traditional boomerang was made out of 6.5 mm Birch plywood sliced into 4 pieces. The sections are attached with metal hinges. Each hinge has 6 small screws. The hinges are placed so that the blades fold up at the elbow and down on both blades. This boomerang takes a tricky release to keep the structure stiff and straight in flight, but it does work. The underside has " Made for Max Hoeben ; 23/10/82 " and the boomerang is signed. Only a few of these boomerangs were made. This one is in very nice condition.
Right Handed ; Tip-to-tip Span = 44 cm ; Weight = 116 gm
---
David Schummy is well known for his innovative competition boomerang products, especially his MTAs and Long Distance models that have set many records. David began his boomerang throwing career as a youth when he lived in England. He was an early pioneer in MTA and he held the title of Mr. MTA when he developed gigantic MTAs using the technology originally developed by Wilhelm Bretfeld of Germany. These large L shaped MTAs did not have any advanced tuning to gain height and float for long periods of time. Instead, they had large lead weights embedded in the blade tips and in the elbow. The weights kept the inertia high to overcome drag forces and to keep the boomerang spinning for creating sufficient lift. to keep it flying longer than other boomerangs from that time period. The first time I met David Schummy was at the 1984 USA-Aussie Challenge Match in Ohio. David showed me a very clever folding boomerang made out of plywood and with hinges. Mike Gramly from Buffalo, NY told me that David visited him after the Challenge Match. David was such a strong thrower that he snapped a Gerhards hook at the handle on the release. Mike also said that he was very impressed that David made some rather difficult throws around his home and around trees. A couple of years later, David moved to Queensland, Australia. David now has his own family and he has established his own business making picture frames. In Australia, David was one of the first to develop long distance boomerangs that flew out 200 metres and with a full return. Although David did not set any world records, his LD booms did perform well and his technology was the foundation for other extreme range LD models that followed and those did set records. The last time I heard from David, he had set a long distance record for Guiness using an MTA that drifted a very long straight line distance with the wind. It was really fun to watch David how off on that episode when it aired on TV.
---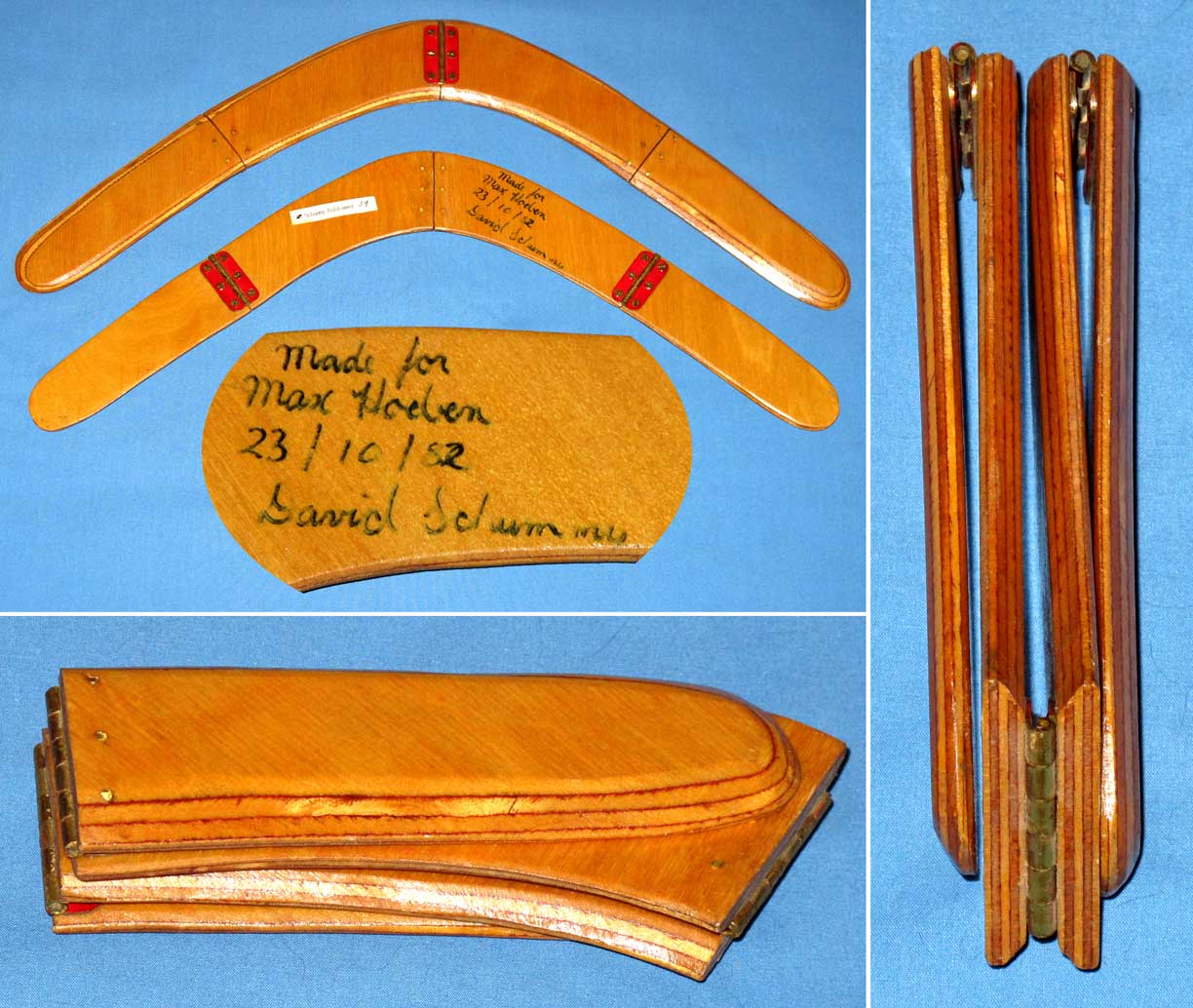 ---
How to Order | Back to: Boomerang Catalog | Collectable Boomerangs | Boomerang Pricing Guide | contact: Ted Bailey