Challenger G12 LD Boomerang by Volker Behrens

Item VB74

This Item was Sold on 22 October 2013 for $175
---
Other collectable boomerangs for sale can be found on the Collectable Boomerangs link.

Historical Pricing information for this item and similar collectable boomerangs can be found on the Boomerang Pricing Guide
---
The Challenger G12 is one of Volker Behrens' most popular long distance models. It is much lighter and smaller than the famous Challenger III and the flight range can exceed 150 metres with proper tuning, weighting and throwing. This particular Challenger G12 was Volker's personal favorites and it was one of only two in his personal throw kit at the time of his death. This Challenger G12 is thicker than the other Challenger G12 boomerangs that I have seen. Most have a thickness of 2.5 mm. This one has a thickness of 3 mm. Volker modified the underside of the blades to enhance the performance by fine tuning it for extreme range. I wish I was able to test throw it. If you look at the photo below, the modifications are shown where the initial paint has been filed off, mostly on the trailing edge. This boomerang does not have tape or weights, so you may need to fine tune the flight by adjusting weight to match your style of throwing. There is wear on the paint from throwing, but no chips or dings or other form of damage. This boomerang has great collectible value because it captures Volker's method of fine tuning the airfoil for extreme range distance throwing. For experienced LD throwers only, please.
Specifications: Right Handed ; Tip-to-tip Span = 31 cm ; Weight = 60 gm
---
Volker Behrens was a well known commercial manufacturer of sporting and competition boomerang products. Volker was also a competitor and a member of the German International Boomerang Team. Volker was a pioneer in the development of long distance boomerangs and he demonstrated throws of 150 metres in the 1980s with his popular Challenger III Paxolin Hook. Volker made the last of his boomerang products in 2011 and he died in June, 2012. His boomerangs have become great collectibles because they are considered to be comparable to boomerangs made by Herb Smith.
---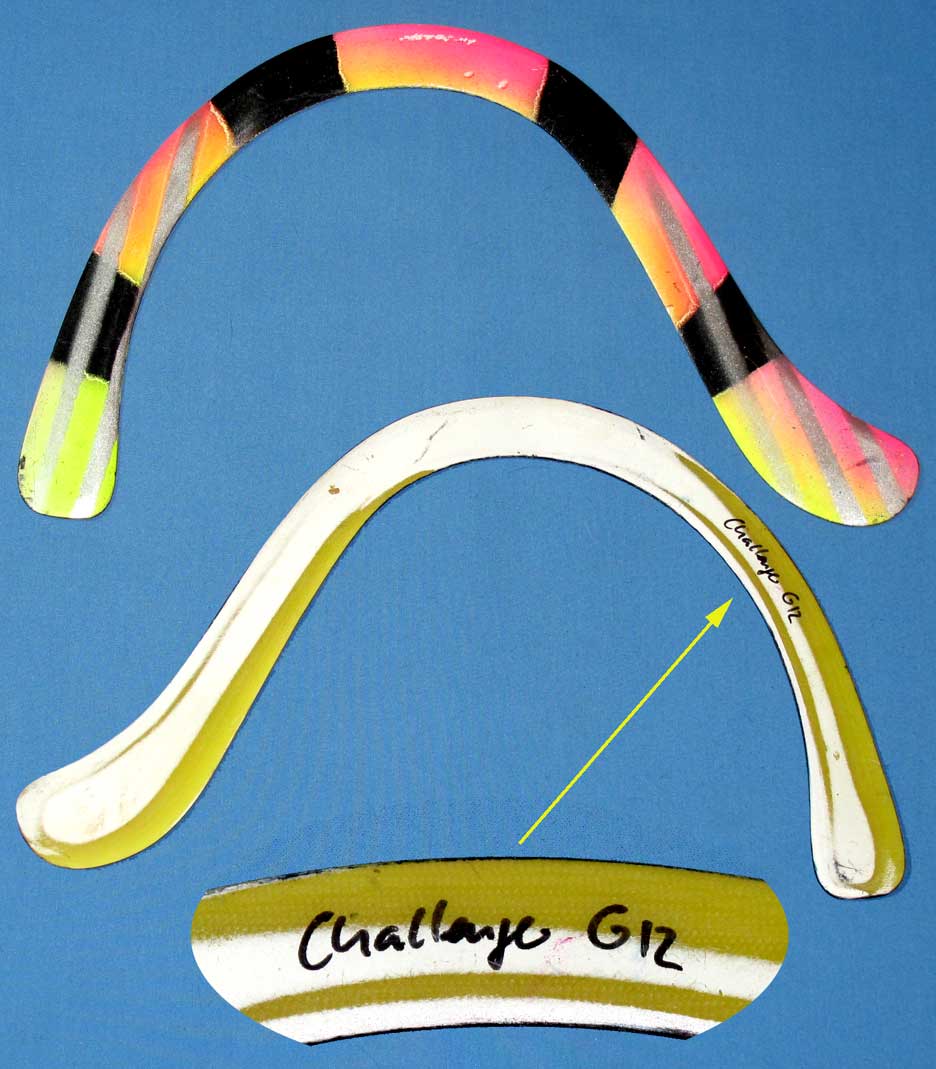 ---
How to Order | Back to: Boomerang Catalog | Collectable Boomerangs | Boomerang Pricing Guide | contact: Ted Bailey