Fast Catch / Endurance
---

Boomerangs for Fast Catch and Endurance competition events and for feats like Super Catch.
Please visit the Fast Catch and Doubling web pages. Some of the Fast Catch boomerangs make wonderful short range sport boomerangs, especially the Paxolin models made by Volker Behrens and the cost is lower than the G12 models. You can split up a pair of Doublers and get two wonderful sport boomerangs at a lower cost than buying a single boomerang on this multiblader web page. Some of these make good boomerangs for other events, like Trick Catch and Accuracy. The Space Doublers are invertible. You can throw them upside down and they work just fine!
Doubling / Juggling
---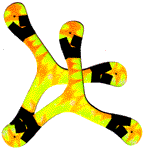 Boomerangs for the Doubling and Juggling competition events.