1939 Caribbean Yearbook - Cristobal High School - Panama Canal Zone

Item CZYB03

This Item was Sold on 2 August 2012 for $80
---
Similar artifacts for sale are often found on the Canal Zone Yearbooks web page.

Historical Pricing information for this item and similar artifacts can be found at: Historical Artifact Prices.
---
This is the 1939 Caribbean yearbook from Cristobal High School, located on the Atlantic side of the isthmus of the Panama Canal Zone in the town of Cristobal. This is an over sized yearbook with the cover dimensions of 13.5 inches X 9.5 inches. The contents include the faculty, seniors and then every issue of the school's " Trade Wind " publication from September 1938 through June 1939. The end of the yearbook has cool ads for familiar places like the Tivoli Hotel and the United Fruit Company. The " Trade Wind " was a newspaper covering school and local events including news about sports, school functions and photos. There is even a nice photo of the S.S. Panama in the Cristobal docks. Fascinating reading for anyone who attended Panama Canal Zone schools. This yearbook was published during the 25th Anniversary of the openning of the Panama Canal. I was delighted to find two of my teachers in this yearbook - Mr. Paul Brown who was the PRincipal when I attended CHS and Mr. Oswald Jorstad who taught me how to play the Clarinet in 1961. Many of my classmates' parents are listed as seniors in this yearbook. As expected, the cover face and cover edges have abrasion and wear. The binding is intact, but showing signs of distress at the cover interface. The pages are starting to yellow, but are otherwise in fairly good condition. A rare and very collectable document about the history of the Panama Canal Zone.
---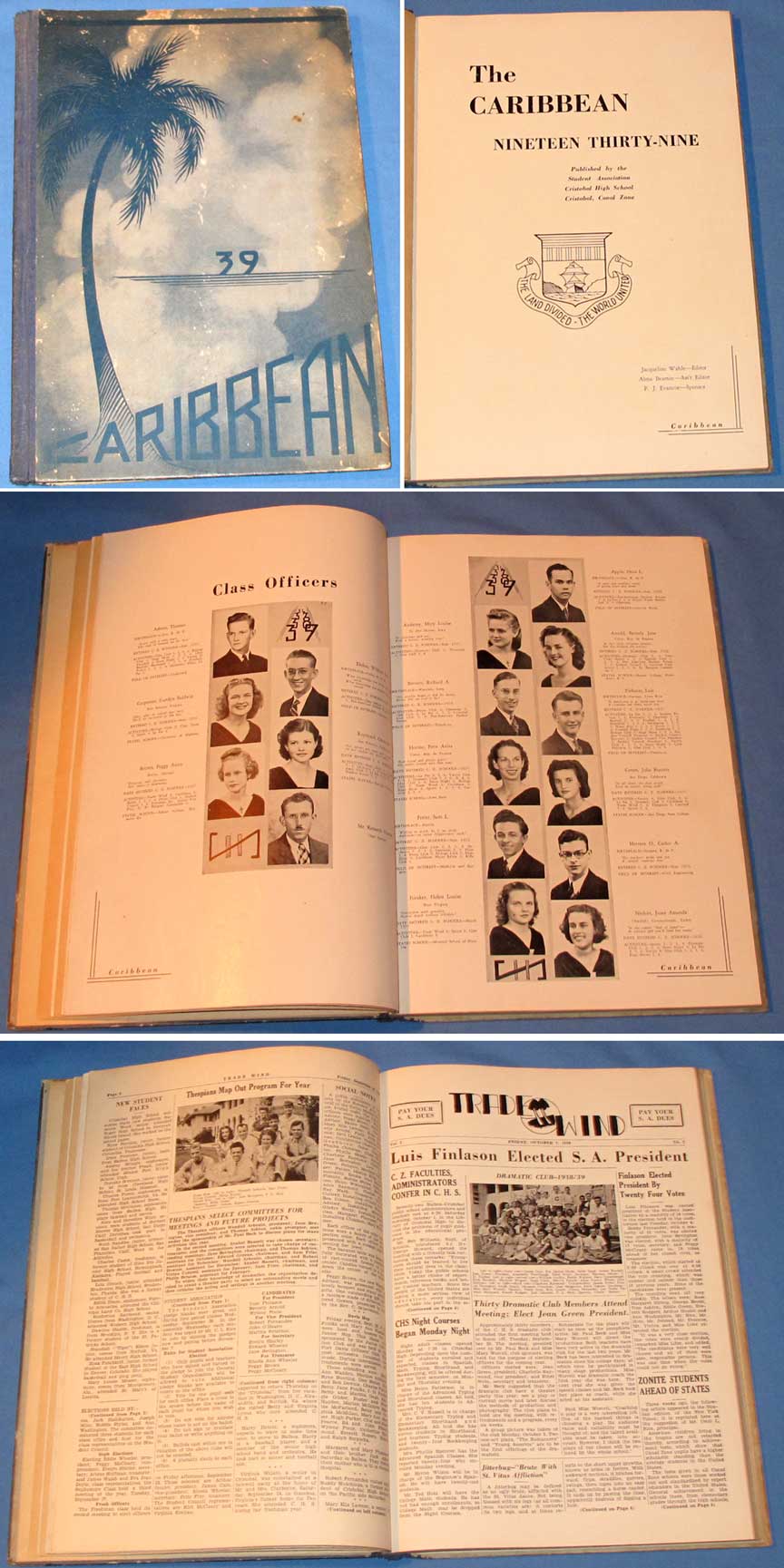 ---
How to Order | Collectable Artifacts | Panama | Canal Zone Yearbooks | Historical Artifact Prices | contact: Ted Bailey