Metal Dish Depicting Culebra Cut at the End of Excavation - 1913

Item PAN02

This Item was Sold on 12 April 2014 for $62
---
Similar artifacts for sale are often found on the Panama Canal Collectibles web page.

Historical Pricing information for this item and similar artifacts can be found at: Historical Artifact Prices.
---
This artifact is a cylindrical metal dish depicting the Culebra Cut near the end of the excavation process. There is a significant amount of detail in the image showing train tracks and rocky base and cliffs. What looks like a scratch at the top of the image is really a dotted line showing the original height of the mountain so that the viewer can gauge how much material was removed from the Culebra Cut during excavation. At the bottom of the scene the following words are printed: " The Great Culebra Cut (Dotted Line Shows the Amount of Dirt Removed, Panama Canal. ". A beautiful floral pattern is embossed around the entire perimeter. The smooth surface was painted with gold paint. Most of the original paint is still intact, but it has flaked off in a few areas (see photo). This dish is heavy for its size. It is well made. The only damage is a small edge crack that originated in the space between two adjacent flowers at the upper right. You cannot see the crack from the front, but it is visible from the reverse side. I do not think that this is damage from mishandling. I think that it is the result of stress risers in the thin metal between the two flowers. This piece is very rare. It is the only one I have ever seen. The manufacture date had to be after 1913. It could have been a souvenir at the Panama-Pacific International Exposition?
Diameter = 11.8 cm (4.6 inches) ; Weight = 96 gm (3.4 ounces)
---

---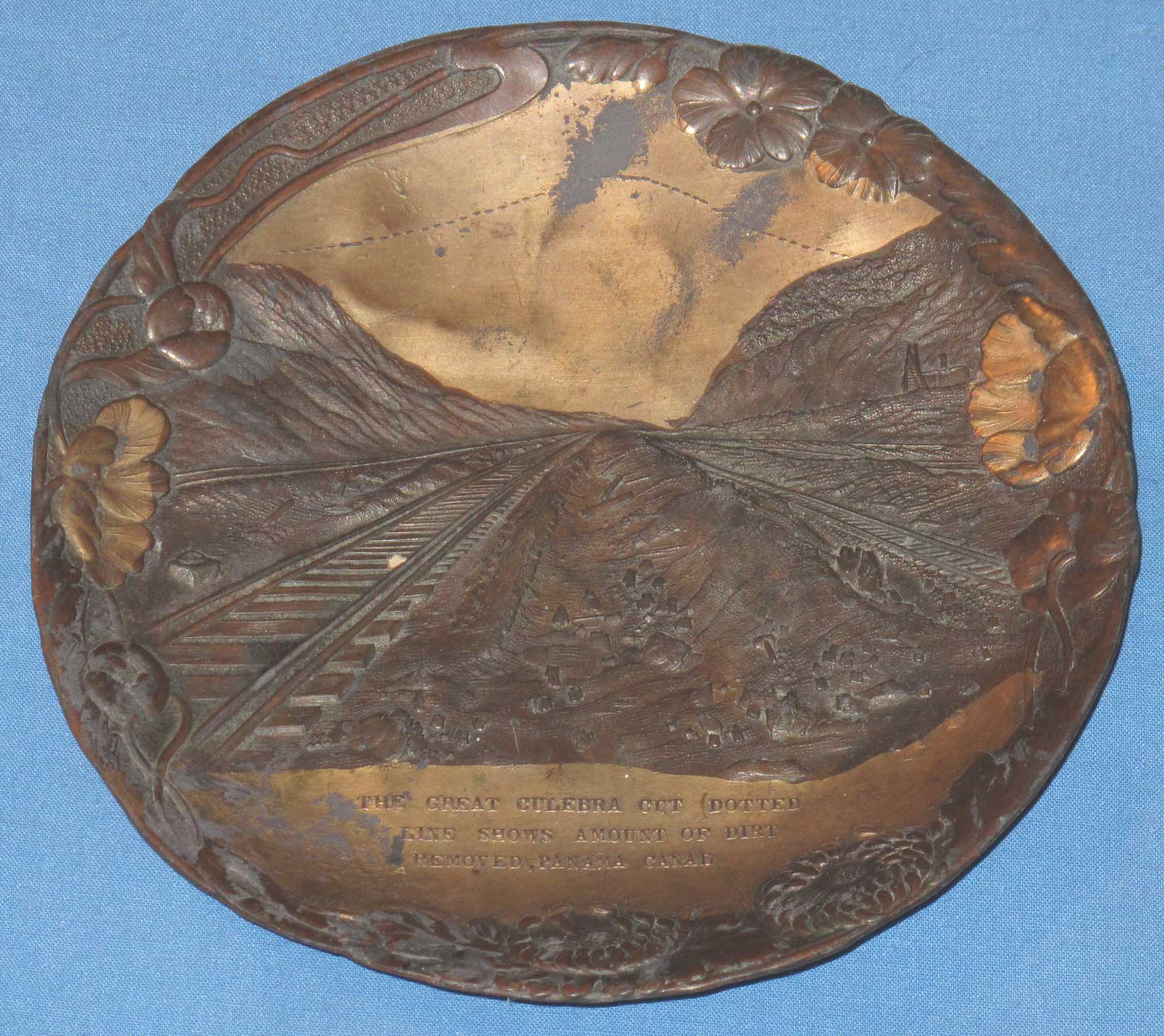 ---
How to Order | Collectable Artifacts | Panama | Panama Canal Collectibles | Historical Artifact Prices | contact: Ted Bailey