Commemorative Plate - General Omar Torrijos - 10th Anniversary - 1978

Item PAN11

This Item was Sold on 12 December 2014 for $46
---
Similar artifacts for sale are often found on the Panama Canal Plates web page.

Historical Pricing information for this item and similar artifacts can be found at: Historical Artifact Prices.
---
This large commemorative plate is bone white and it commemorates the tenth avviversary of the overthrowing of the government of Panama by General Omar Torrijos on 11 October 1968. There are inner and outer gold rims on the face of the plate with a picture of Torrijos wearing his famous hat and a logo showing the Panamanian flag and a ship transiting the Panama Canal. The words " Reconcimento al General Omar Torrijos " are printed in blue letters on the plate. This plate has small gold letters on the reverse that say " Made in U.S.A. ". This plate is in excellent condition. It would display well in your home (if this is the kind of thing that you want to display). As for myself, I never met this great dictator, but I used to hang out with his niece who lived in Gatun in the late 1960s and my Aunt Julia Jarrell (Curundu Swimming Pool manager) used to hang out with Torrijos in the gambling casinos in Panama City before he came to power. It is now time for me to find a new home for this plate which I have owned for more than 25 years.
Diameter = 26 cm (10+ inches) ; Weight = 546 gm (19.3 ounces)
---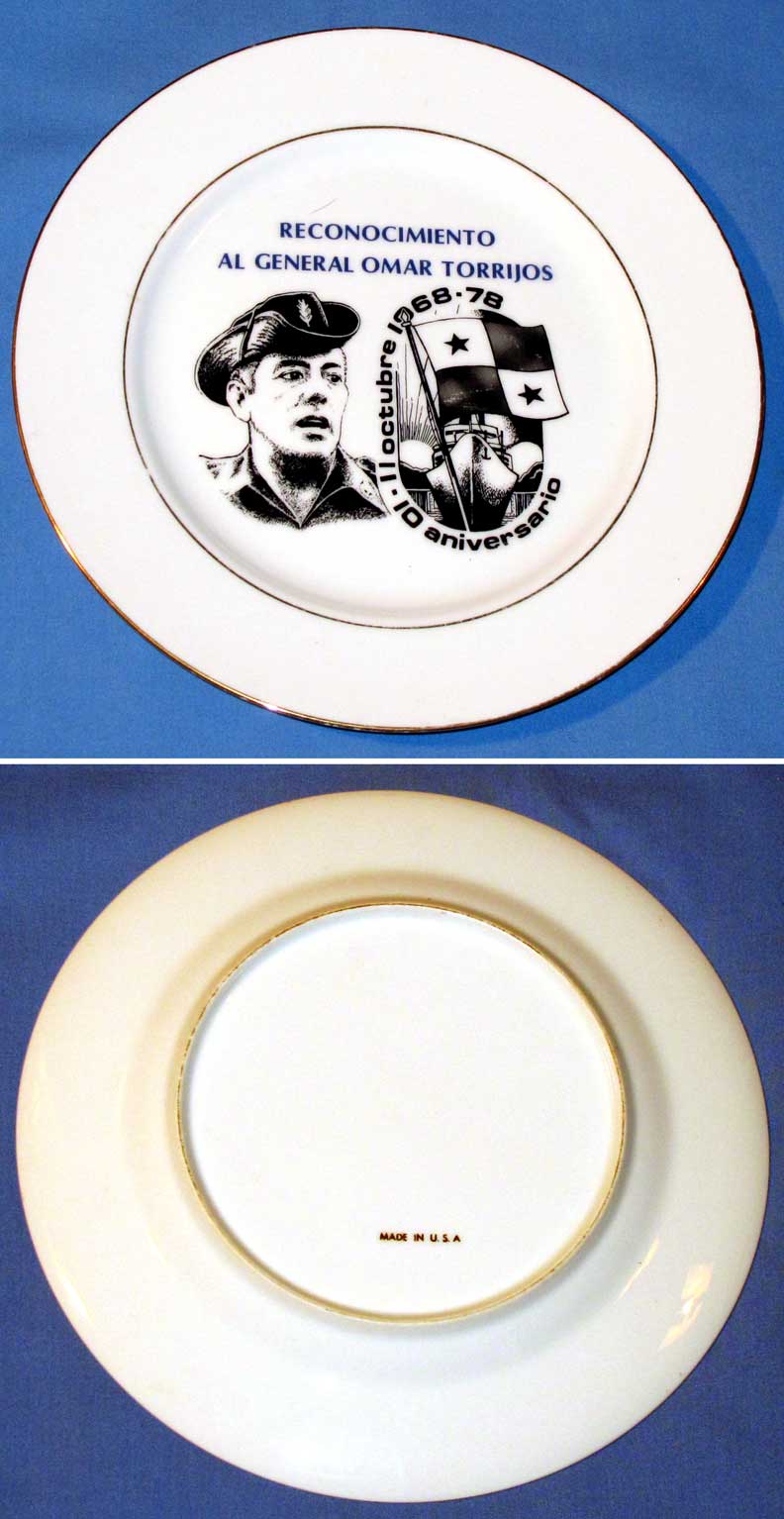 ---
How to Order | Collectable Artifacts | Panama | Panama Canal Plates | Historical Artifact Prices | contact: Ted Bailey