C. Fernie & Co. Inc. Commemorative Ashtray: 1920-1978

Item PAN19

This Item was Sold on 7 May 2015 for $27
---
Similar artifacts for sale are often found on the Panama Canal Plates web page.

Historical Pricing information for this item and similar artifacts can be found at: Historical Artifact Prices.
---
This beautiful commemorative ashtray was issued in 1978 by C. Fernie & Company, a shipping agency located in the ports of Cristobal and Balboa in the former Panama Canal Zone. The shipping agencies provided services such as mail, money, food, fuel and other essentials to the ships that passed through the Panama Canal. My father, who was a pilot and tug boat captain on the Panama Canal obtained this ashtray in 1978. The ashtray is large, like a commemorative plate, but with an inner serrated rim for supporting cigarettes. Both the inner and outer rims have golden edges. The face of the ashtray has " C. Fernie & Co. Inc. " , " Ship Owners Agents & Brokers " , " Cristobal & Balboa Panama Canal " , " 1920 - 1978 " and there is a detailed map of the Panama Canal Zone in the center of the face of the ashtray. The reverse side of the ashtray has the following printed in small black letters: " Alberts Advertising Co., Inc. ; 2951 West 4th Avenue ; Hialeah, Florida 33012 ". This ashtray is in excellent condition.
Most of what I sell has some age. It should be expected that these items will have some sort of wear or patina unless listed as "mint". Flaws created during the manufacturing may not be mentioned as these are part of the character of vintage or antique items. These flaws may, however, be mentioned if they cause a structural defect affecting the items integrity. Thank you for your interest in this item.
Diameter = 22 cm (8.5 inches) ; Weight = 496 gm (17.5 ounces)
---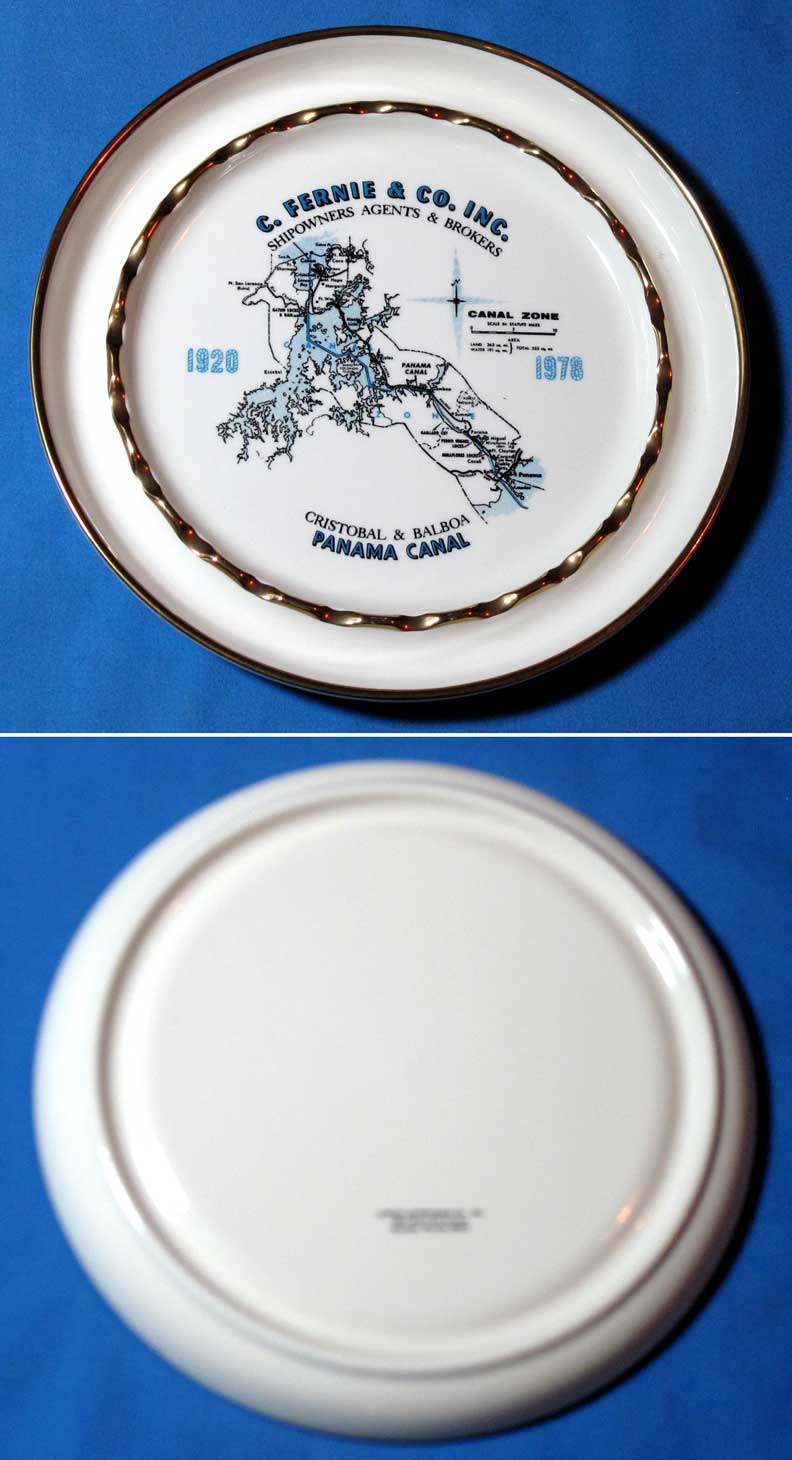 ---
How to Order | Collectable Artifacts | Panama | Panama Canal Plates | Historical Artifact Prices | contact: Ted Bailey