Vintage China Plate - Uncle Sam Digging Panama Canal

Item PAN29

This Item was Sold on 28 September 2014 for $62
---
Similar artifacts for sale are often found on the Panama Canal Plates web page.

Historical Pricing information for this item and similar artifacts can be found at: Historical Artifact Prices.
---
This beautiful commemorative china plate was made to commemorate the construction of the Panama Canal. There is a red/white/blue trim with gold stars along the outer edge. The art on the face of the plate depicts a map of North and South America with Uncle Sam's leg digging at the isthmus of Panama with a shovel. The back of the plate has a faded manufacturer's mark that I cannot read. The words " Teach your dollars to have more cents W. M. Aldridge Douglass, Kans.." are neatly printed in a blank area to the left of the map. This plate is very good condition. There is a lot of crazing as expected, but there are no chips or dings. The art on the front has a few scratches. What looks like a chip on the back of the plate is a stain or residue from a sales tag, but the surface is not damaged. I did not try to clean this plate.
Diameter = 18 cm (7 inches) ; Weight = 252 gm (9- ounces)
Most of the plates that I sell are vintage. It should be expected that these items will have some sort of wear or patina unless listed as "mint". Flaws created during the manufacturing may not be mentioned as these are part of the character of vintage or antique items. These flaws may, however, be mentioned if they cause a structural defect affecting the items integrity. I do provide large photos of each item so that you can see the condition. Thank you for your interest in this item.
---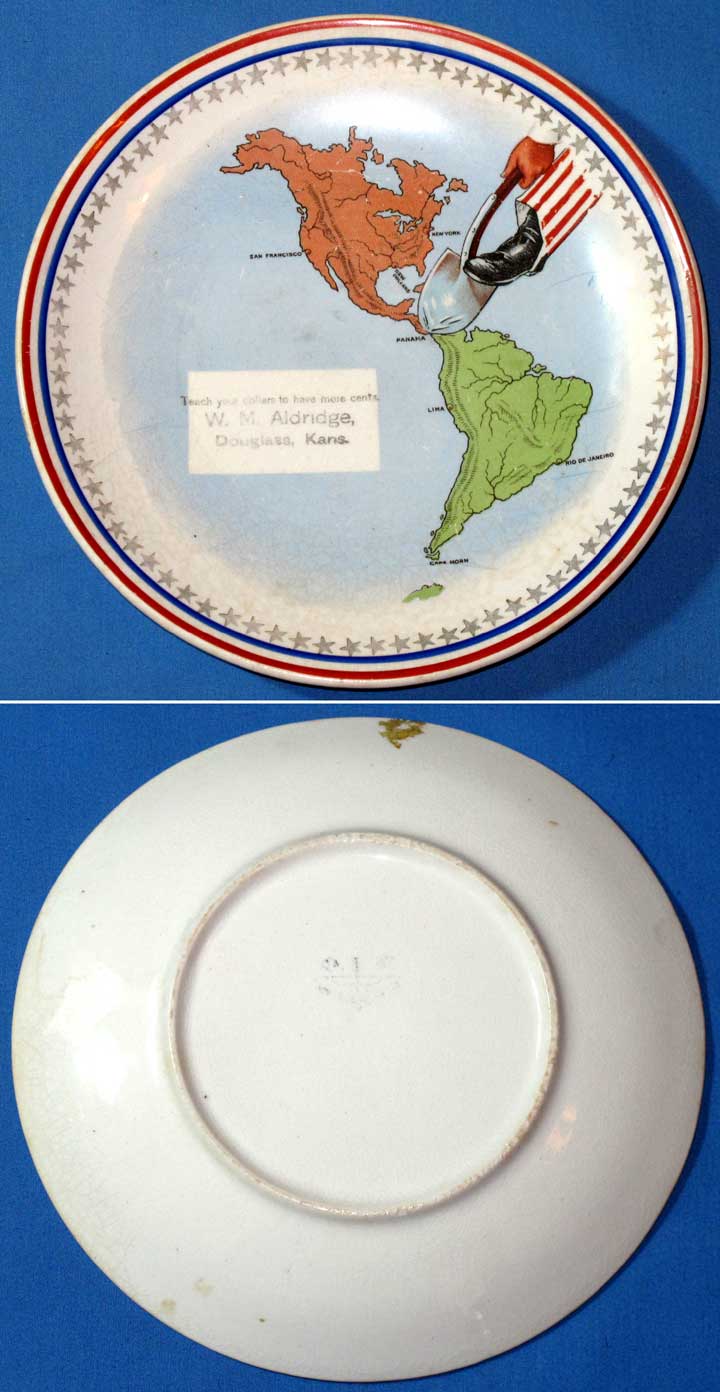 ---
How to Order | Collectable Artifacts | Panama | Panama Canal Plates | Historical Artifact Prices | contact: Ted Bailey