Native American Lithic Point Reproduction by D. C. Waldorf

Item BR31

This Item was Sold on 4 August 2010 for $10
---
Similar artifacts for sale are often found on the Lithics Artifact Reproductions web page.

Historical Pricing information for this item and similar artifacts can be found at: Historical Artifact Prices.
---
This reproduction of a Native American Agate Basin or Hellgap spear or atlatl dart point was made by D. C. Waldorf from Washburn, Missouri. The time period for Agate Basin is Transitional to Early Archaic and the Hellgap is late Paleo. D.C. is the author of " The Art of Flintknapping ", a layman's guide which has sold more than 40,000 copies over the years. Waldorf is also the publisher of the periodical " Chips ", the best of the flintknapping journals. A purist, Waldorf uses only bone, wood, horn, wood & stone tools, viz. tools the Indians used. Thus, D. C.'s points are not as refined as Virgil Tonn's points, but they are closer to what was made by Native Americans. This point is an Agate Basin Lanceolate, made out of flint from Flint Ridge, Ohio. It is signed but not dated. It was made in 1979 and was part of the manufacturer's personal collection for years. There is a small chip on one edge. Both sides are shown in the photo below. Length = 100 mm. Weight = 26 gm.
---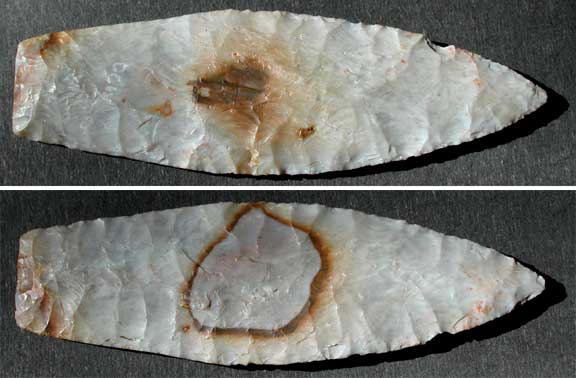 ---
How to Order | Back to: Lithic Reproductions | Collectable Artifacts | Historical Artifact Prices | Primitive Technology | contact: Ted Bailey